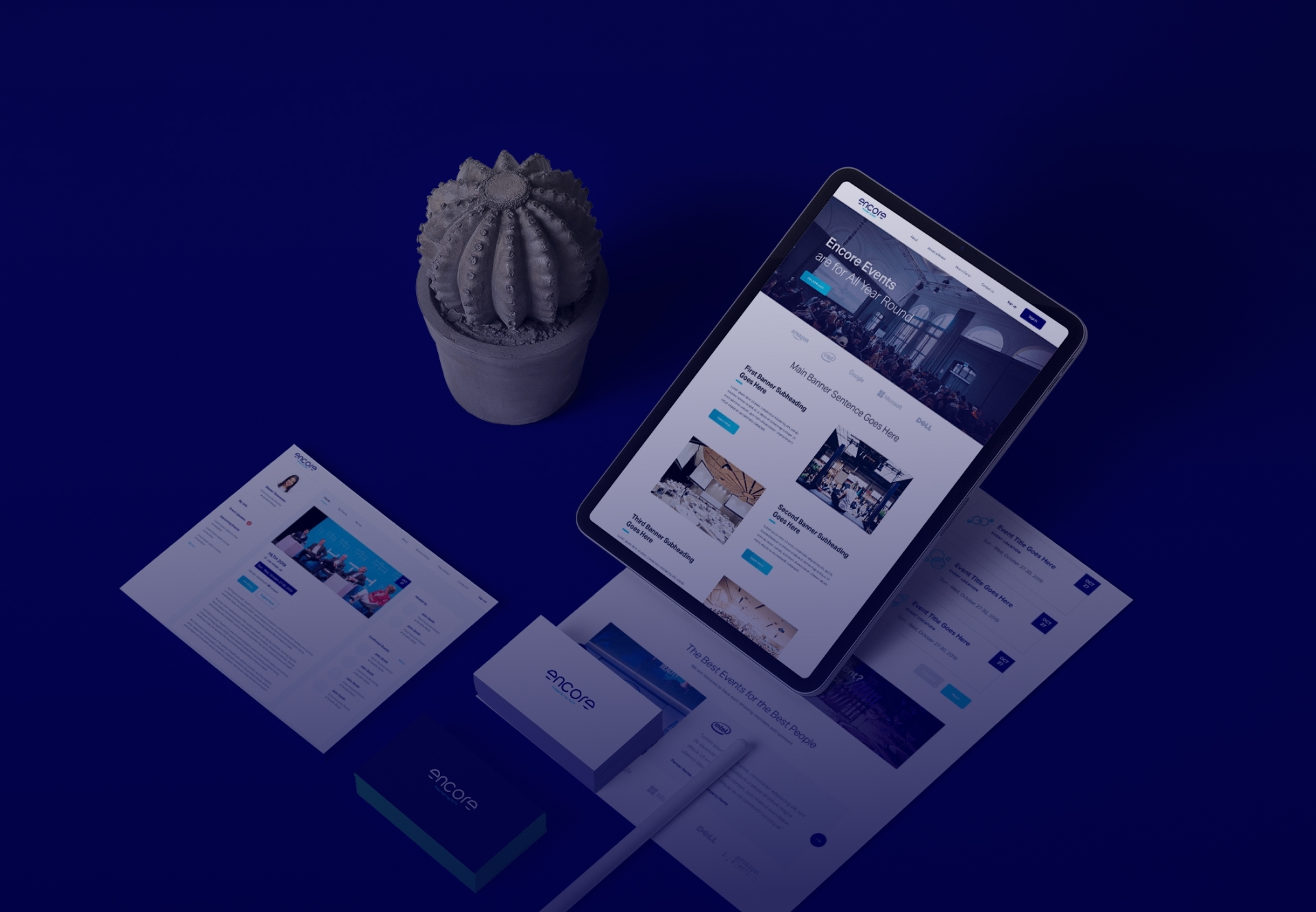 See How We Helped the World's Leading Healthcare Innovation Event Management Platform Launch a New Product to Help Collaborative Discussions Through Unique and Personalized Digital Experiences. See What We Did Below:
The Events Platform Challenge
Our challenge involved finding a way to simplify event management, event planning for virtual, hybrid and in-person events. Flexibility and scalability was an integral part of the ideatin and creative process when finding the right balance between technology, integrations with third-party tools and usability. Both event organizers and attendees had to be front-and-center when crafting this platform's experience.
The Technology Solution
Health Innovator Event Platform
Our user-centered approach for both the event management staff as well as the attendees was a critical point of differentiation. All back office tasks as well as post-event follow ups had to be flawless. Check out what we did below.
New Branding & Identity Design
When you have multiple brands, you always want each new branch to align in a cohesive and unified way. We worked to ensure both Entree and the HLTH brands were included in the new company creation.
Health Event Management Platform
Our centralized event management platform helped Encore make data driven decisions to easily gauge how their events performed against business goals.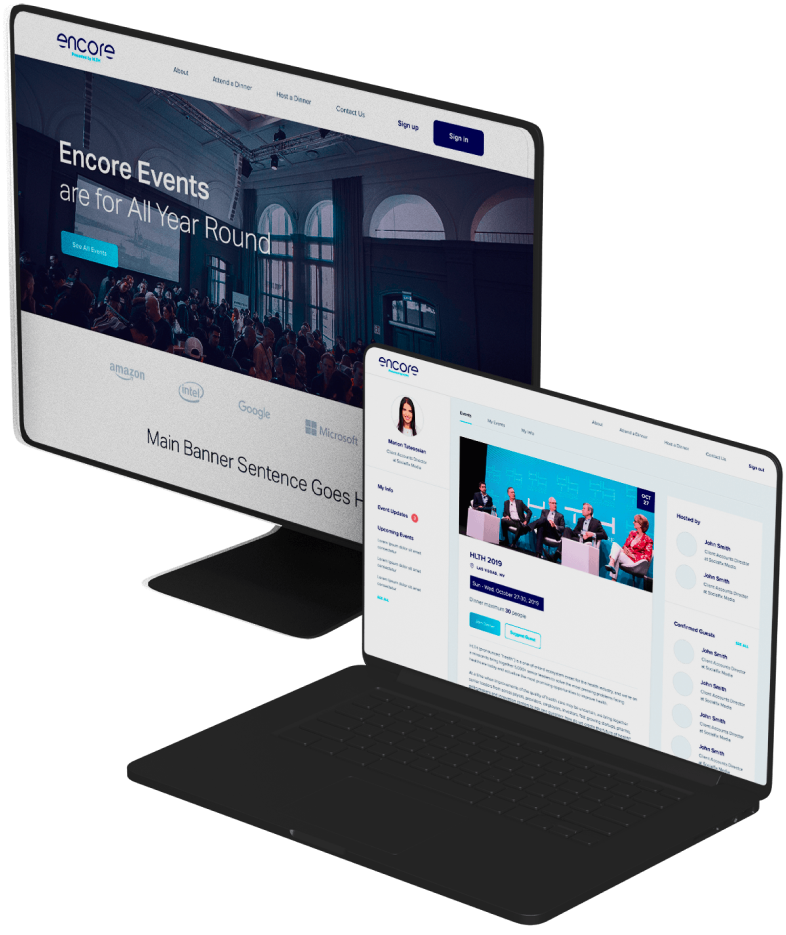 Home page Header
Easy to review highlighted content or events.
Highlighted Events Quick Tab
Quick and easy to review highlighted events by date and location, helping users to discover everything that's on
Clear Call to Action
A clear promise and a clear map to guide users where things are and what to do next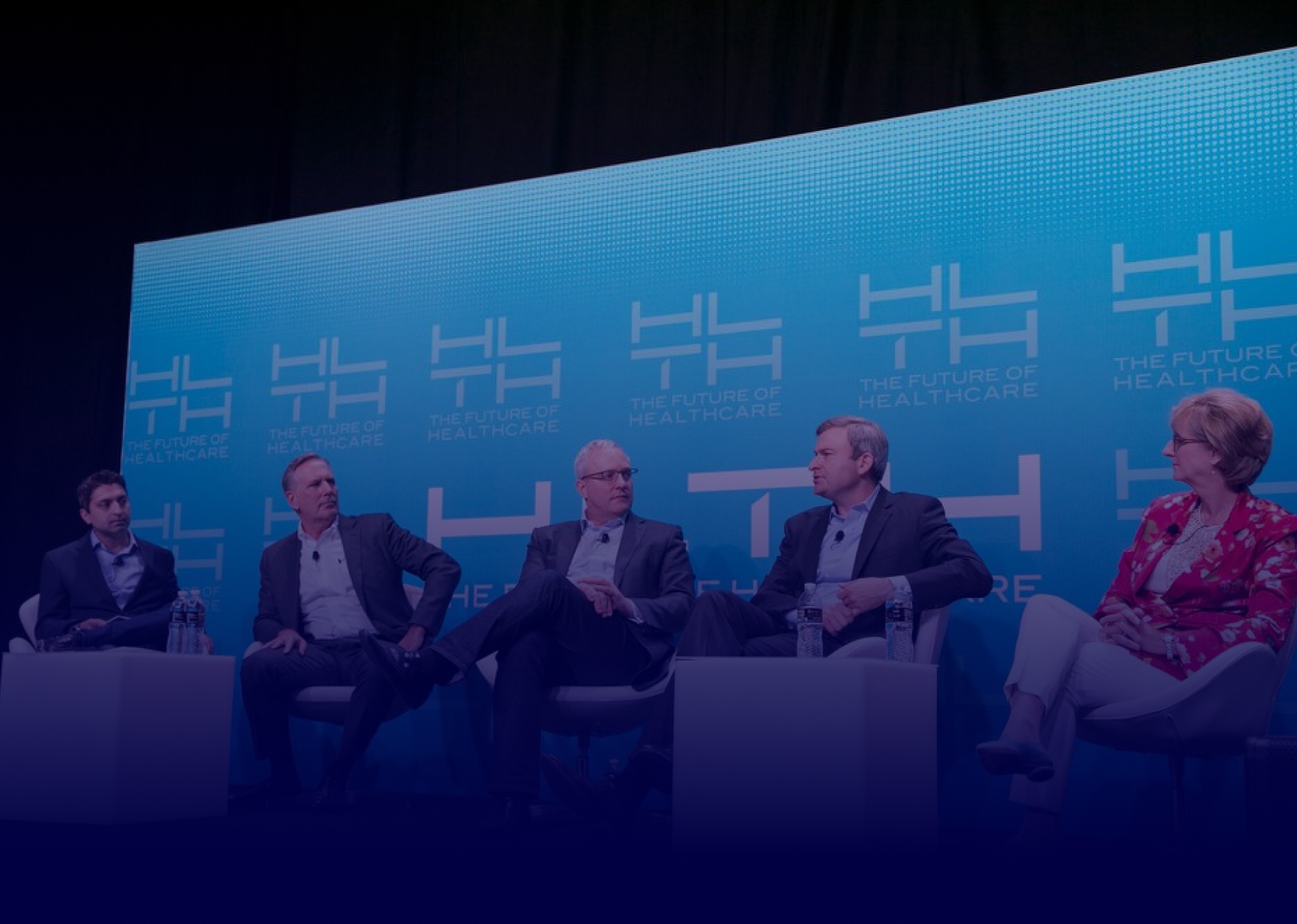 The Result: Attracting New Event Attendees, Sponsors & Partners
We helped with launching a new platform that captured Encore's identity while offering the same seamless user journey for attendees, sponsors, and partners. With a thoroughly planned menu, clear signposts, and a site designed to be straightforward and minimalist to keep things easy to use, the final outcome is an improved understanding of what's on offer and an engaging experience encouraging users to explore further.
The
Assets
A selection of carefully designed icons to match the brand's colors, logo, voice, and style.

Drive Attendee
Engagement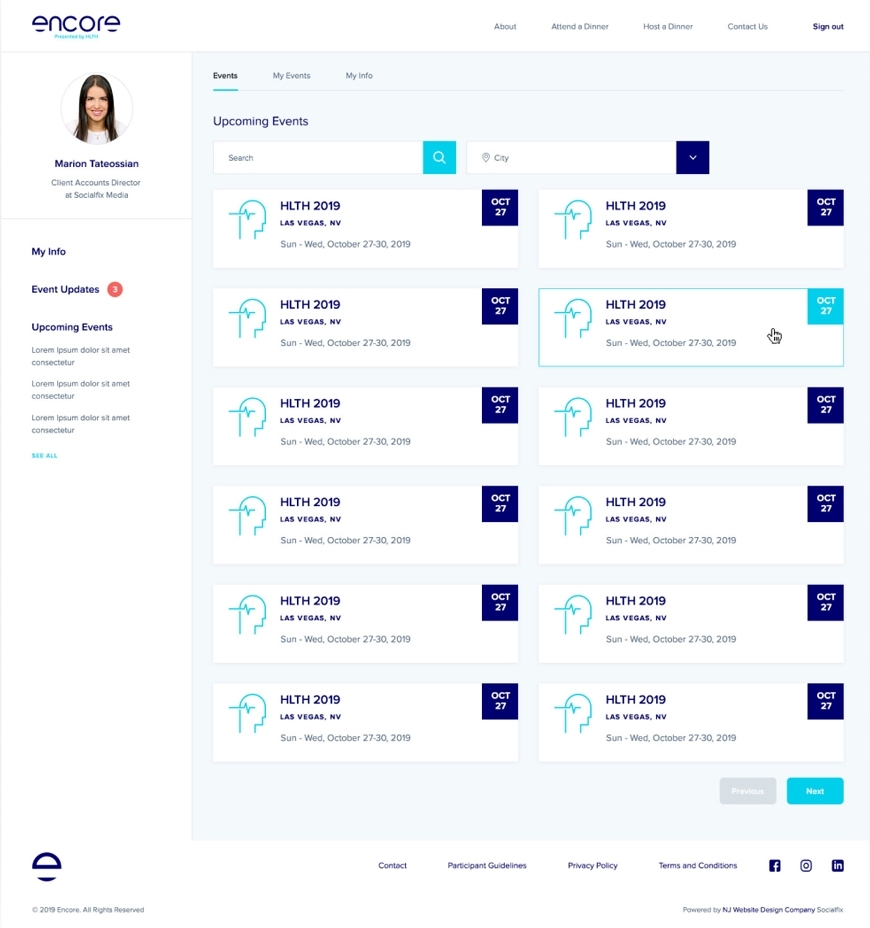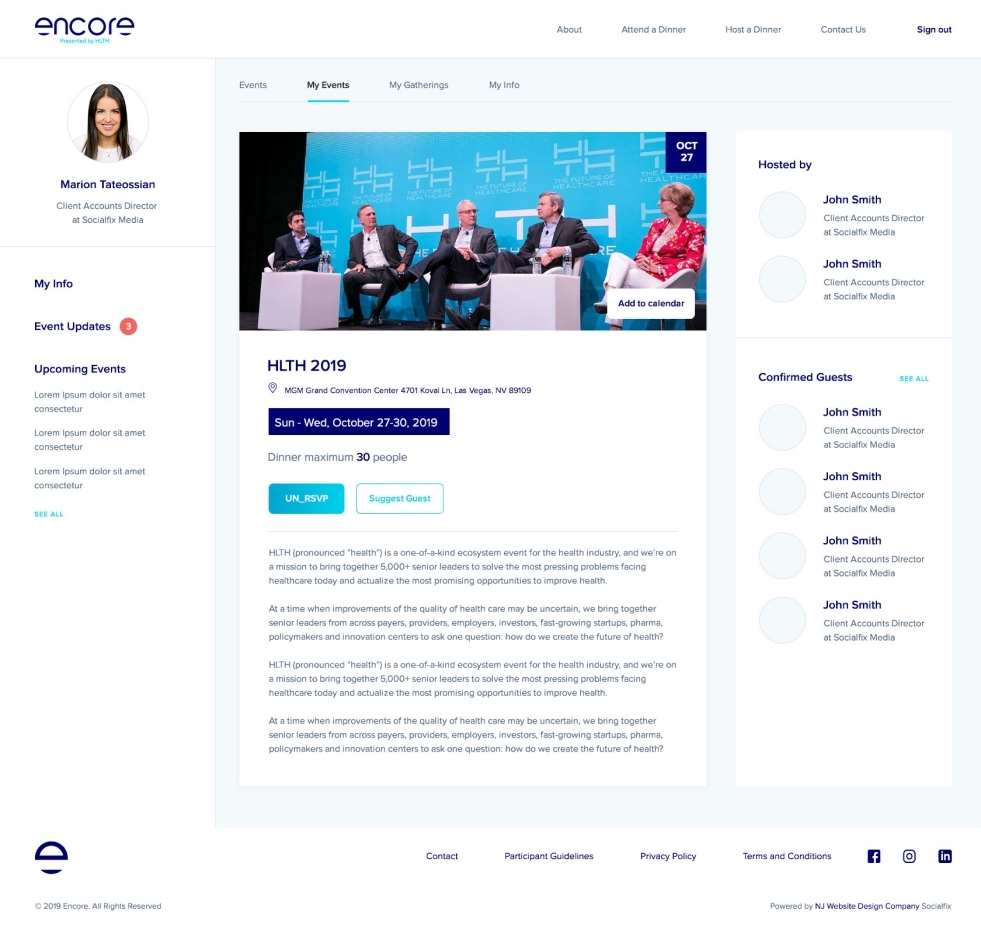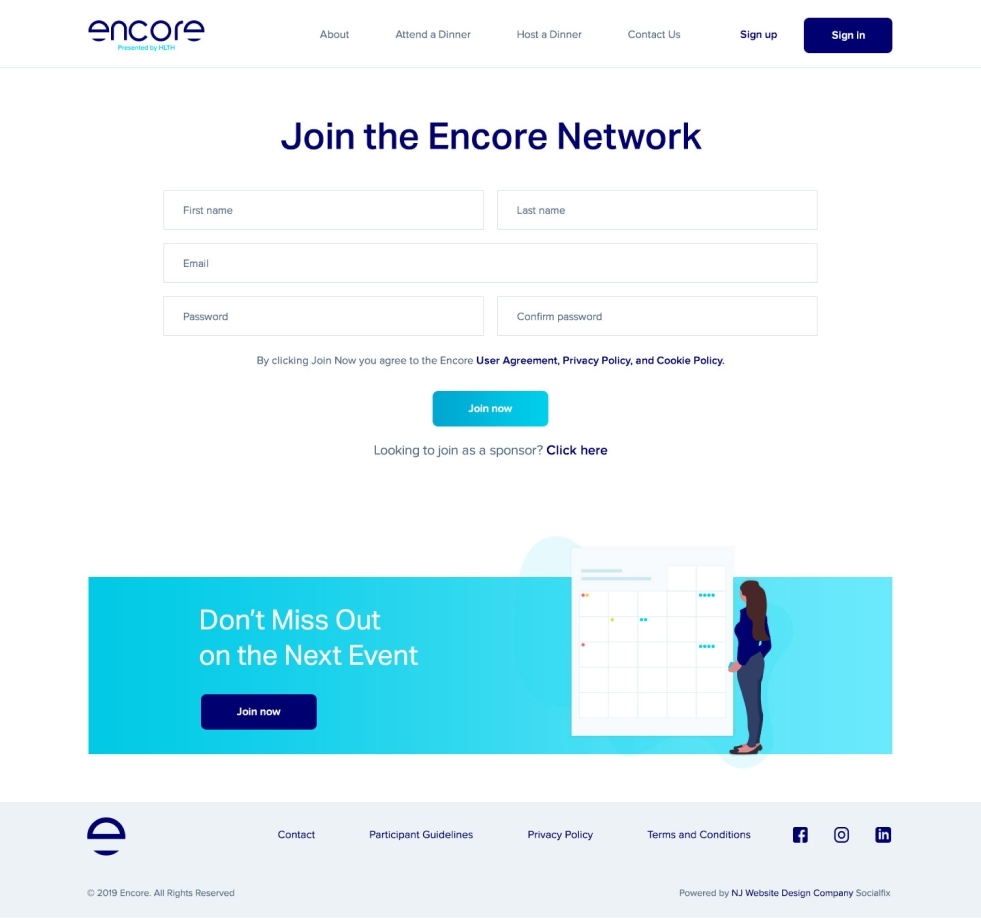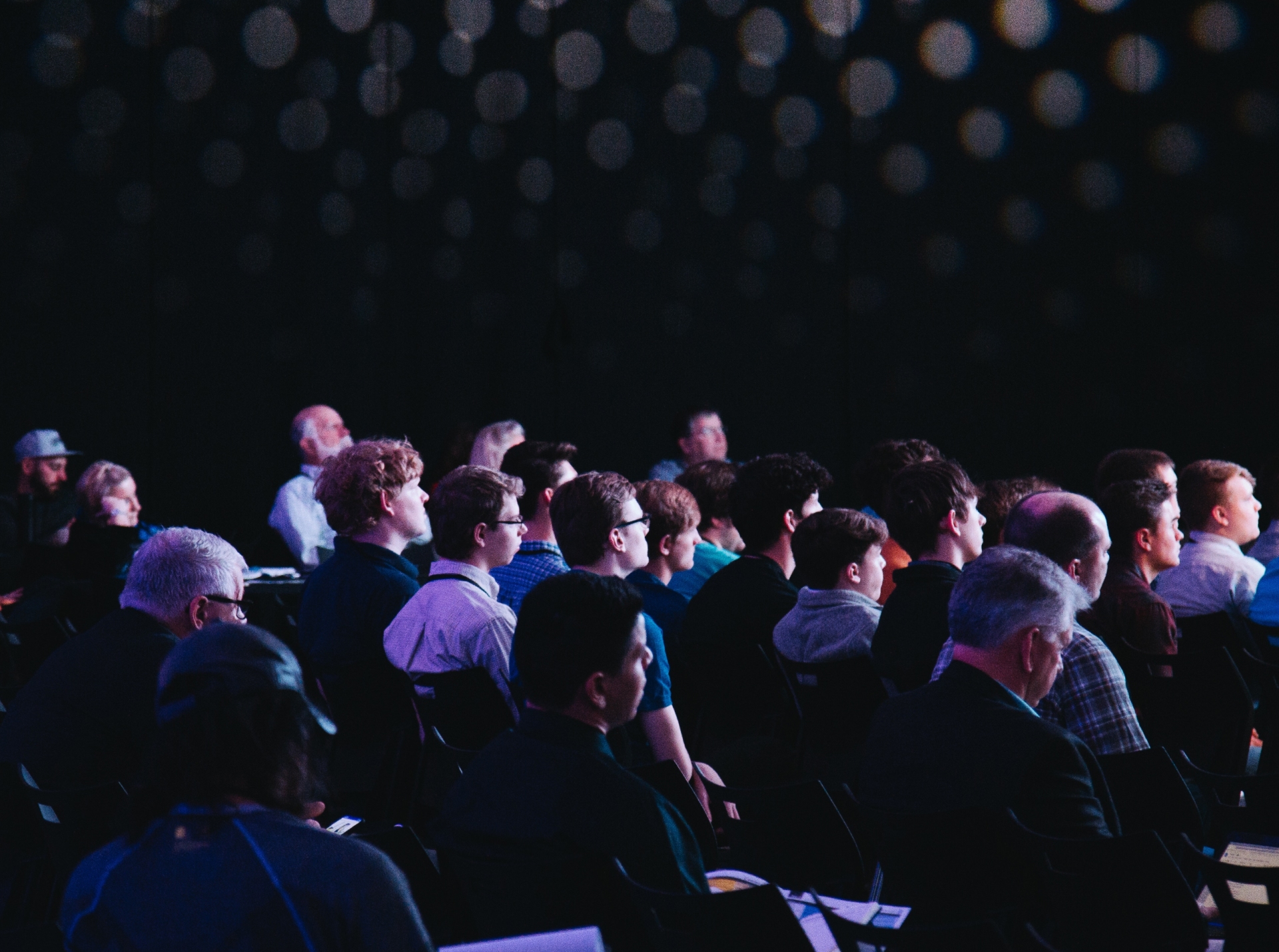 The Result: Attracting New Event Attendees, Sponsors & Partners
We were tasked with the double challenge of creating a platform that offered improved usability and control for the creative team while encouraging user exploration and on-site engagement. A big focus of our efforts was to help promote events and drive new attendees, sponsors, and partners. Careful thought was put into how the platform should be structured, how headings and call-to-action should be used, and which messaging should be highlighted. As a result of our efforts to create a website that is accessible, visually interesting, and digestible, Encore has seen a staggering 84% increase in impressions and a big boost in event attendance.
FAQ's
How do I develop a brand identity for an event management company?
Branding and identity design are essential for any event management brand, as they help establish a unique and memorable image for your business. Here are some steps to follow when developing your branding and identity design:
Define your brand: Start by defining the core values, mission, and personality of your event management brand. This will help you create a consistent and cohesive brand image that reflects who you are and what you do.

Research your competition: Study the branding and identity design of your competitors to see what's working and what's not. This will give you a better understanding of the market and help you differentiate your brand. Develop a visual identity:

Create a visual identity that includes a logo, typography, color palette, and imagery that represents your brand. Make sure your visual identity is consistent across all platforms and materials.

Create a brand style guide: Develop a brand style guide that outlines your visual identity, messaging, and tone of voice. This guide will help ensure consistency and accuracy in all of your communications and materials.

Test and refine: Test your branding and identity design with focus groups or in a real-world setting. Collect feedback and make improvements as needed. Implement and maintain: Implement your branding and identity design across all of your platforms and materials, from your website and social media profiles to your business cards and email signature.

Continuously monitor and maintain your brand image to ensure consistency.
Take a look at this event management - Leading Women Entrepreneurs - we helped launch here.
By following these steps, you can develop a strong and effective branding and identity design for your event management brand. A well-defined and executed brand image will help you stand out in a crowded market and build trust and loyalty with your clients.
How Do You Develop A Website for An Event Management Company?
Developing a website for a health innovator event management company requires a focus on user experience, brand consistency, and a clear communication of your event offerings.
Here are some steps to follow:
Define your goals: Start by defining your website goals, such as generating leads, promoting events, or providing information about your company and services. Know your audience: Understand your target audience and their needs and interests. Use this information to inform your website design, messaging, and content.

Plan your website structure: Plan the structure of your website, including the pages and sections you will include. Make sure it is easy to navigate and provides a seamless user experience.

Choose a platform: Choose a website platform, such as WordPress, or something more custom. Make sure that it fits your needs and budget. Make sure the platform is easy to use and provides the features you need to achieve your goals.

Design and develop: Work with a web designer or developer to create a design that is visually appealing and reflects your brand. Make sure your website is responsive and optimized for all devices.

Add content: Add high-quality, relevant, and engaging content to your website. This can include event information, testimonials, blog articles, and videos. Make sure your content is optimized for search engines and provides value to your audience.

Test and refine: Test your website to ensure it is user-friendly and provides a seamless experience. Collect feedback and make improvements as needed.

Launch and promote: Launch your website and promote it through social media, email marketing, and other channels.

Continuously monitor and update your website to ensure it remains relevant and effective.
By following these steps, you can develop a website that is effective and results-driven for your health innovator event management company. A well-designed website will help you generate leads, promote your events, and establish a strong online presence.
What Should Your Event Management Website Include?
Some of the vital information your event management website should include are
Compelling landing page (user-friendly & easy to navigate)

Company info & contact information

Persuasive event services descriptions

Past events and/or workshops

Social proof examples (reviews, testimonials, media mentions, etc)

Links to social media

Helpful & educational information
What Are Some Event Management Website Ideas?
When you're creating your event website you should start by analyzing your competitors and learn from what works for them and what doesn't.
Looking at the latest design trends will also help you create a beautiful event-planning website and incorporate must-have elements. The crucial thing when creating your website, no matter your industry, is to stick to designs that communicate your brand values and mission.
You have better chances of Impressing visitors with simple and organized portfolio examples, service descriptions, and straightforward calls to action.
How do I drive attendance for my next event?
Driving attendance for an event requires a combination of strategic planning, marketing, and follow-up. Here are some steps you can follow to drive attendance for your next industry event:
Define your target audience: Determine who you want to attend your event and what their interests and needs are. This information will help you develop an effective marketing strategy. Set specific and measurable goals: Set specific and measurable goals for your event, such as increasing attendance by X% or reaching a certain number of attendees.

Plan your marketing strategy: Develop a comprehensive marketing plan that includes a mix of tactics, such as email marketing, social media, influencer outreach, and paid advertising. Make sure your marketing materials clearly communicate the value of your event and why people should attend.

Offer early-bird pricing: Offer early-bird pricing to encourage early registration and create a sense of urgency.

Build a landing page: Build a landing page for your event that includes all the important information, such as the date, location, and schedule, and provides an easy-to-use registration process.

Use social proof: Use social proof, such as testimonials and endorsements, to build trust and credibility with potential attendees.

Follow up with attendees: Follow up with attendees after they have registered to keep them engaged and interested in your event. You can also offer additional incentives, such as discounts on future events, to encourage them to attend.

Monitor and adjust: Monitor your attendance and adjust your strategy as needed. Continuously evaluate your tactics and make changes to improve your results.
By following these steps, you can drive attendance for your event and ensure its success. A well-planned and executed event will help you build your brand, engage with your target audience, and achieve your goals.
Does Socialfix Provide Event Management?
Yes, we do! Check out some of the successful events we've organized and captured on tape here.
If you're looking for reliable & timely help with your event get in touch with us, today!
Does Socialfix Offer Website Development for Event Management Companies?
Yes, we do! Check out some of the stellar web designs that we've developed for clients to help them boost traffic and convert customers here.
If you're looking for reliable & timely help with your event get in touch with us, today!
Get in Touch with Us For Your Event Management Platform Project
Contact us