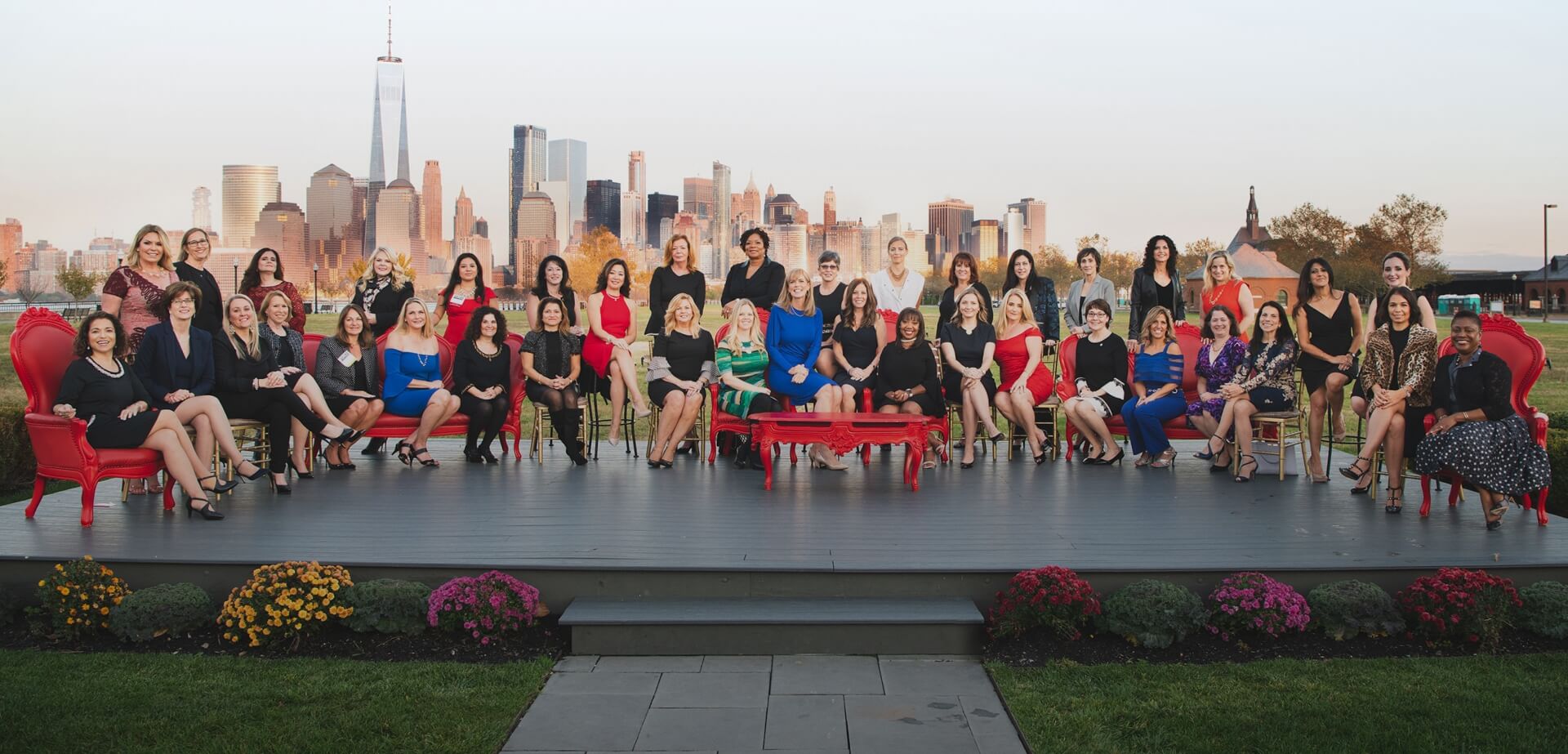 See How We Helped This Women's Membership Organization Coordinate Their Member Experience From One Central Location and Grow Reach.
The Challenge: Expand LWE's Reach Throughout the NJ Tri-State Area
This powerhouse of women had a mission of growing membership, increasing members, attracting new partners, signing on new advertisers and sponsors to promote the message and recognition of Leading Women Entrepreneurs in the NY and NJ tri-state area. Take a look below on what we did.
The Solution: Create a Membership Platform Ready for Action
Brand & Identity Refresh
To strengthen brand awareness and maximize impact through LWE's program-driven member experience, we refreshed and updated their existing brand.
Web Design & Development
Whilst working behind the scenes, we kept the existing site operational and build a new membership portal to help expland existing functionalities and member experience.
Event Marketing & Corporate Video Production
Perfect video interviews every time. We helped with capturing each honoree and helping their business stand out. Take a look below at our work.
Leading Women Interviewed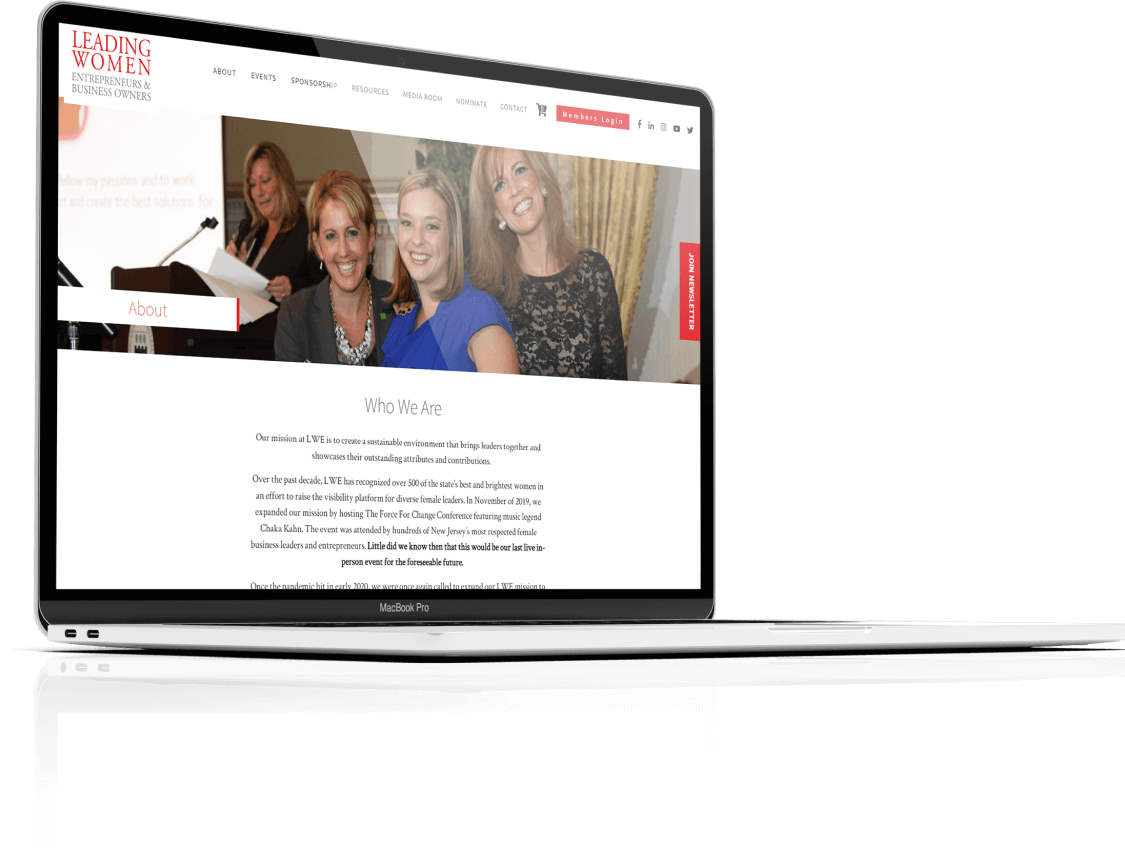 Produced Over 220 Honoree Video Interviews
Some of our great memories involve our work with leading women entrepreneurs and business owners of NY & NJ. Producing and editing all the award honorees interviews and event videos was a great way to help highlight the achievements of pioneers in the industry. Take a look below.

Brand Refresh & Development
Member highlights and an easy user and customer journey were at the forefront of our design goals for their new website and brand refresh.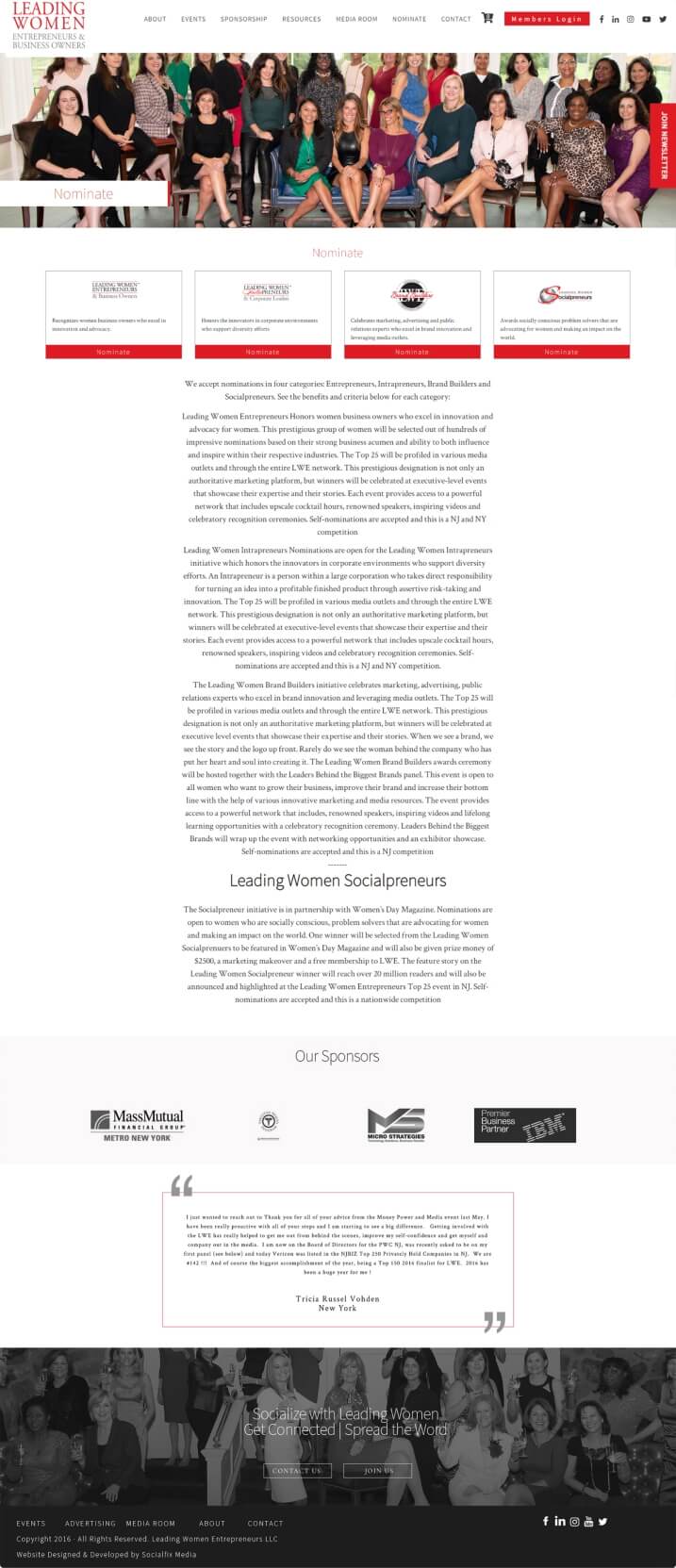 Membership Portal Design
From mobile responsive design to easy login all the way to a robust photo and video gallery, we took into account the user journey at each touchpoint when designing the membership portal for LWE.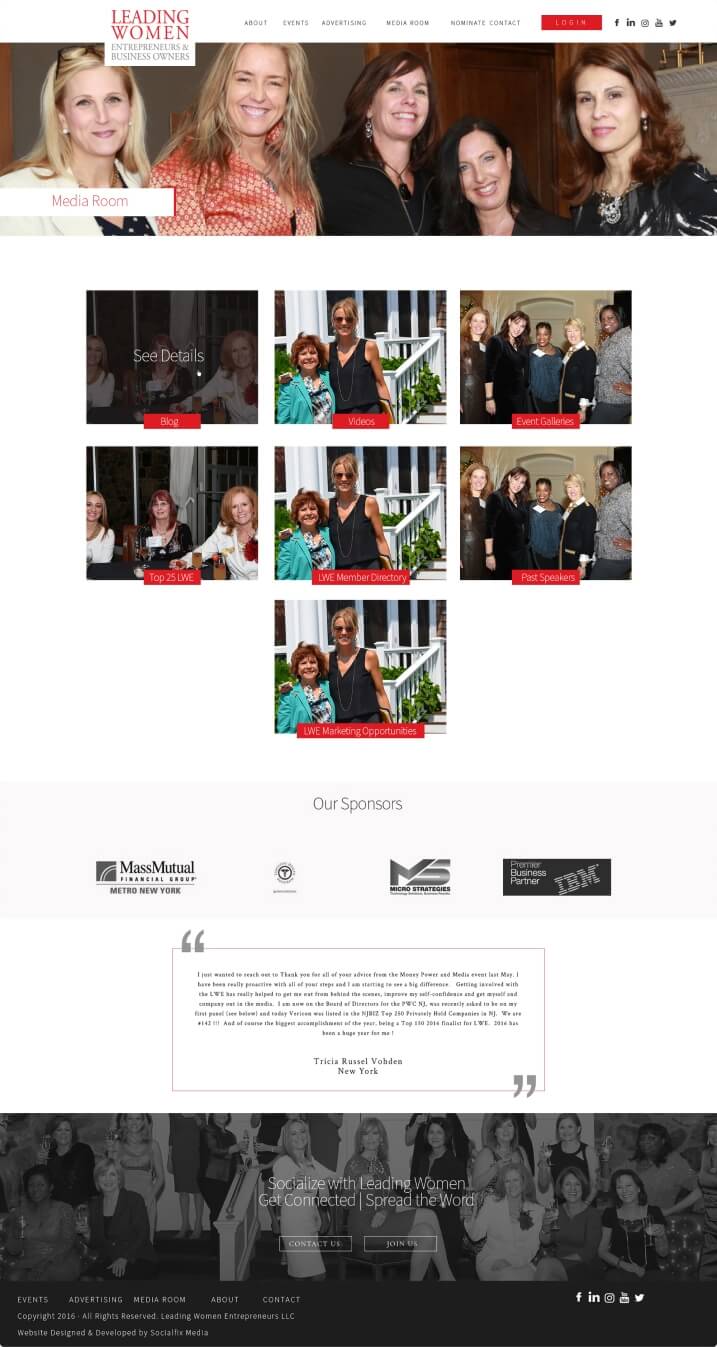 Membership Platform Architecture & Design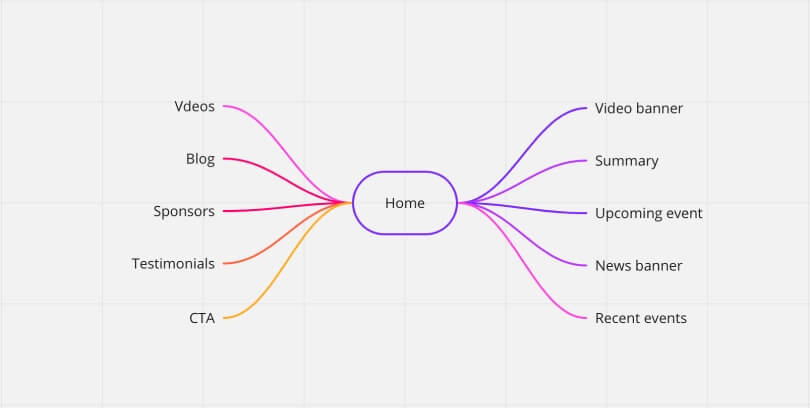 Easy Navigation, Personalized, One-Stop Service, and User-Centric Design
From Wireframes to Design
From search features to member profiles, everything was planned and implemented with a fine eye for details.


Video Production & Event Marketing
Boosting event attendance and promoting events starts at least 4 months before the event date. We made that easier with video content to help highlight the benefits of participation. Take a look.
RVCC - Women Leading the Way Event - May 20, 2014 - Linda Wellbrock
Introduction at Recognition Event
RVCC - Women Leading the Way Event - May 20, 2014 - Michelle Scott
2017 Top 25 Leading Women Entrepreneur Recognition Event
2016 Power of Your Brand (NYC Event)
Top 25 Brand Builders 2017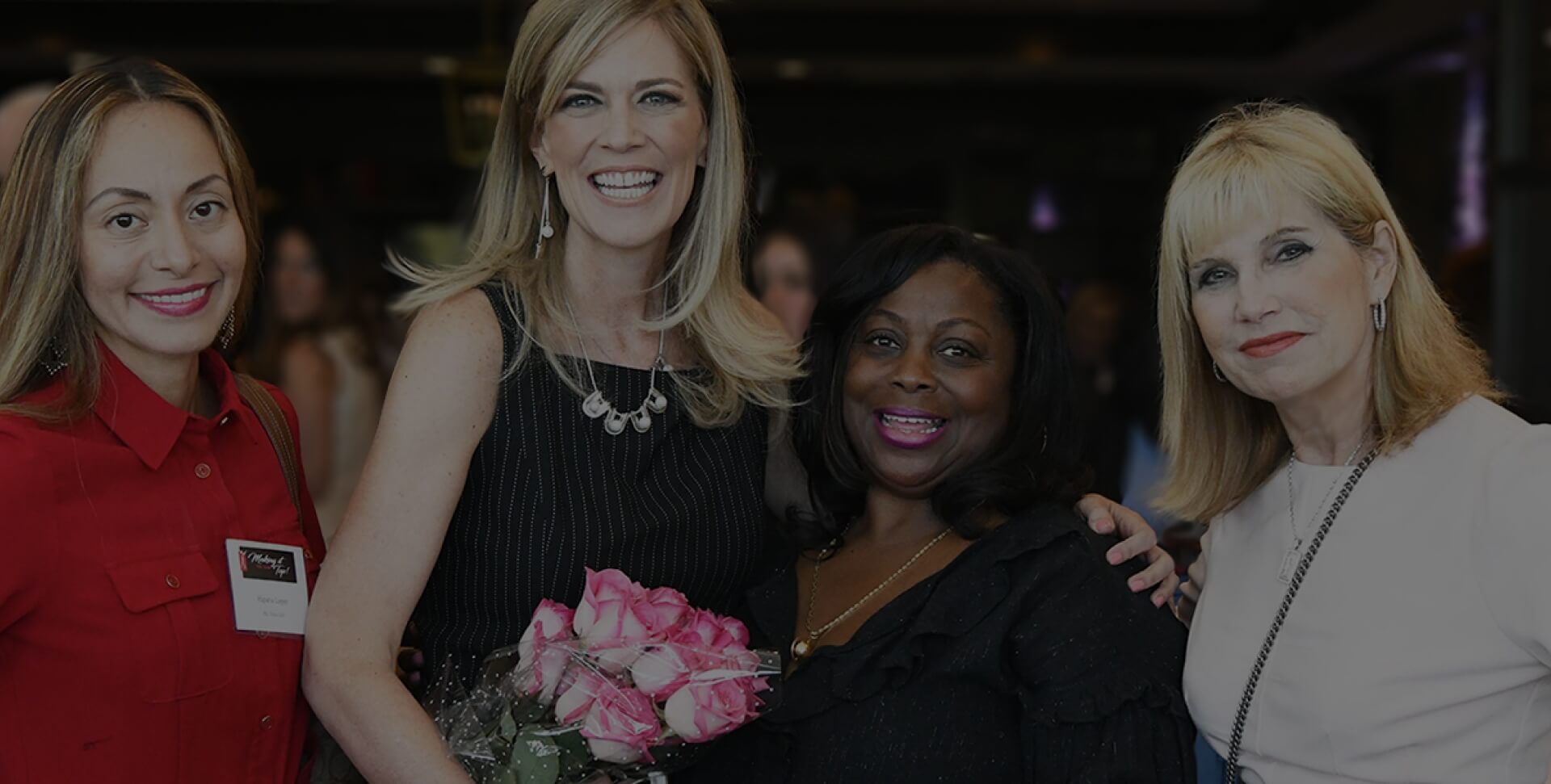 The Result
We achieved the following results in the first twelve weeks (Year-over-Year to account for events seasonality): Increased page views, increased sessions, increased unique users by over 11% from November 2018 to May 2019, reduced bounce rate by 5%, increased membership growth rate & increased sponsorships. Our goal is to continue growth and expand further member and sponsor acqusition.
Increase Your Reach FAQ's
How can I increase my reach?
15 Tips on How to Launch your Clothing Line
Draft comprehensive industry articles and publish those on your website for your target audience to read and share;

Create unique high quality infographics and send those out to relevant journalists and bloggers;

Shoot explainer videos and share those on YouTUbe;

Record video testimonials and promote those on Social Media;

Invest in Google Search and Display ads;

Launch remarketing campaigns to convert prospects;

Host events;

Plan an email marketing campaign;

Leverage offline marketing initiatives.
How do you increase your reach on Facebook?
Analyze your current reach and find weaknesses in your marketing strategy;

Consider posting more frequently (once a day) on Facebook;

Make sure you've chosen the optimum time of the day to publish your content;

Use hashtags;

Ask questions;

Go live on a consistent schedule;

Reshare user-generated content;

Brag with customer testimonials;

Create a Facebook group for loyal customers;

Invest in Facebook ads campaign;

Actively listen and respond to your audience;

Entertain your audience with fun images, memes, polls, Q&As;

Educate your audience with informative industry and branded content;

Publish How-to videos;

Publish Before-After videos;

Organize games and contests;

Launch giveaways and sweepstakes;

Encourage customer referrals;

Benchmark against your competitors.
How do you increase your reach on LinkedIn?
Set your reach target;

Showcase your work;

Research your topic before drafting your content;

Use Linkedin hashtags;

Tag people when you publish content;

Boost your content with a paid campaign;

Send invitations to your target audience;

Include calls to action in your posts;

Optimize your company profile on LinkedIn;

Encourage your team members to become your brand advocates on Linkedin;

Build relationships with local exports on the platform;

Participate in LinkedIn groups for new networking opportunities;

Create unique & Valuable content.
How do you increase your reach on Instagram?
Post Instagram Reels regularly;

Go live on Instagram;

Publish Instagram stores;

Invest in Instagram ads;

Don't forget to add relevant hashtags to your posts;

Reply to your comments;

Take time to write longer captions;

Step up on your video content production strategy;

Collaborate with influencers;

Explore IGTV.
Get in Touch with Us For Your
Membership Platform Marketing Project
Contact us