With 130 million US users as of July 2020 Instagram has established itself as a Social Media channel that no growing business should ignore. 
If you haven't yet considered investing in Influencer Marketing the chances are that you are growing your Instagram followership all naturally by actively implementing your custom Social Media Strategy. 
Keeping this in mind I don't see fit to go over the standard recommendations on writing Instagram captions like: 
Don't write above the Instagram character limit;
Use relevant hashtags and emojis;
Use CTAs and tag other brands;
Definitely post on Sundays or at noons;
Use short paragraphs, and so on.
While such tips might be perfect for some industries, they would be absolutely useless in others. Your social media content creation strategy should be customized and tightly related to your vertical and target audience. 
I want you to be daring enough to reinvent your Instagram strategy and consider something much more important that focusing on standard KPIs like increased likes, reshares, and so on. 
Instead you should rather ensure that you build an engaged community, which in the long run will mean much more than the occasional improved referral traffic to your site from your business Instagram profile, or your exponential follower's growth, or the piling numbers of comments received on your Instagram posts. 
You will end up building a community of loyal followers that would be your natural company advocates both on and off-line and that already is a target worth achieving even if it is hardly measurable. 
So here they are:  The 11 tips on how to write converting Instagram captions for your business:
Instagram Captions to Make You Laugh
Unleash your sense of humor while writing your Instagram captions. Schedule at least 1 joke, punch line or meme in your weekly posting calendar. As Charles Dickens once said:
"There is nothing in the world so irresistibly contagious as laughter and good humor."
So you want to go viral, by all means make your audience laugh. Feeling amused and entertained is a mood that people usually wish to share with someone. If you manage to tickle your audience's funny bone, the chances are that they would hardly wait to pay it forward. 
Be careful with the sarcasm though. That's a risky way to entertain your peers. While you might get some likes and shares you put in jeopardy the image of your business. You might be ill-understood and perceived as an aggressive, discriminatory or even racist in your public communication. This will cost you a lot of lost clients and could result in some pretty negative PR. 
Funny Instagram Captions
So what is the proper way to make funny Instagram captions?
Let's see what the market leaders do. And we'll start with some pizza jokes, I am sorry, but that's what you can expect from an utter pizza lover!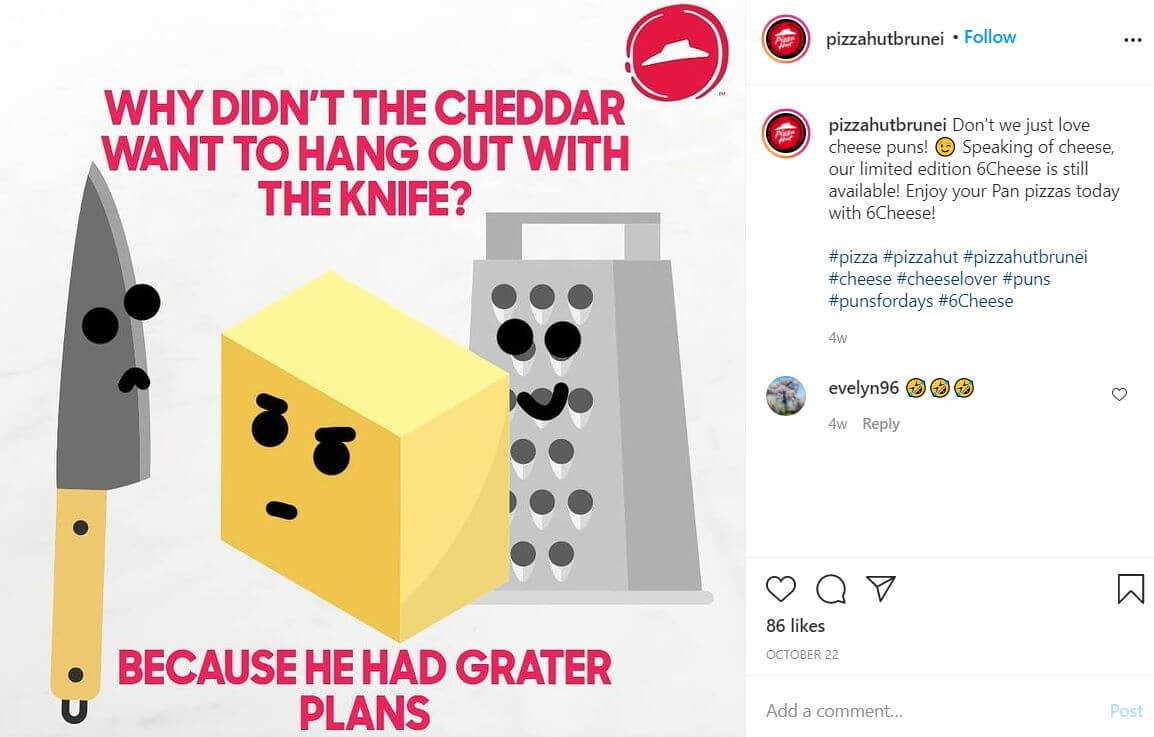 Pizza Hut have finely combined Instagram captions with image embedded text for their pizza joke here.  Entertain your audience and while still on it – make sure to remind them what else  you are really good at: in this case it is: preparing 6 Cheese Pizza!
Or you could get your 'stand-up comedian' to do the jokes in video format for you and with your Instagram captions you can simply invite your followers to share more jokes with the community: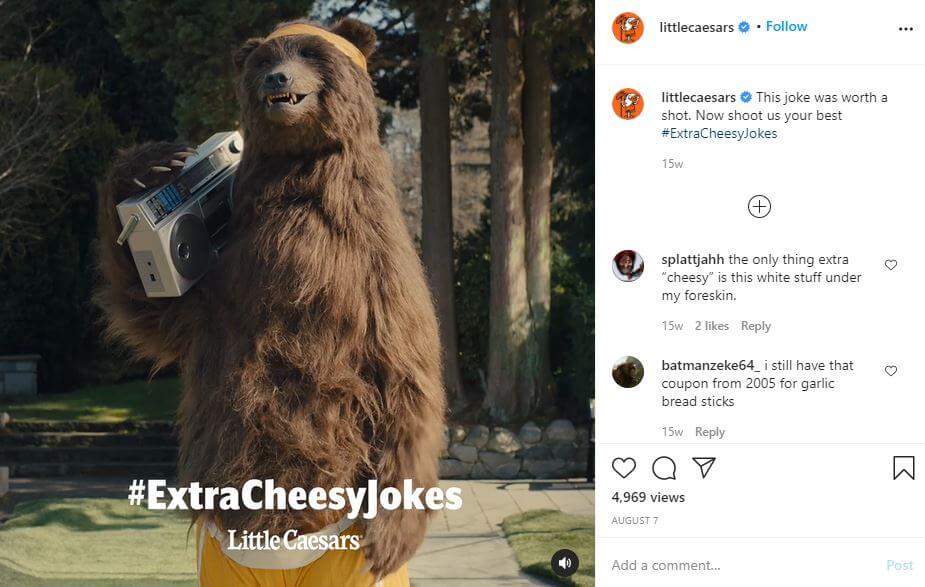 The guys at the Little Ceasers even turned this idea into a series and it proves to be working really well for them, too!
Or your captions could tackle the daily horoscope reading: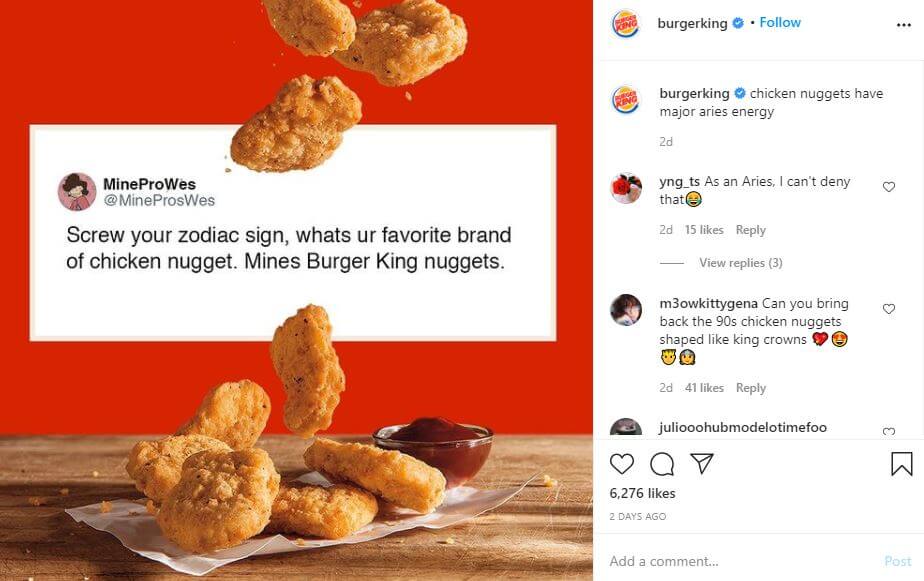 Just kidding – remember a good approach is to take a familiar topic and redefine it in another context – the element of surprise combined with often an absurd association will bring a smile to your followers' face. And while we are on the surprise topic: 
Instagram Captions that Surprise
Starting with a statement about a universal truth being false could be an unexpected and grabbing approach.  Your followers are triggered to keep on reading –  it is all up to you whether you could deliver the grand finale: "I don't want free delivery for my Little Caesars pizza 
Said no one ever"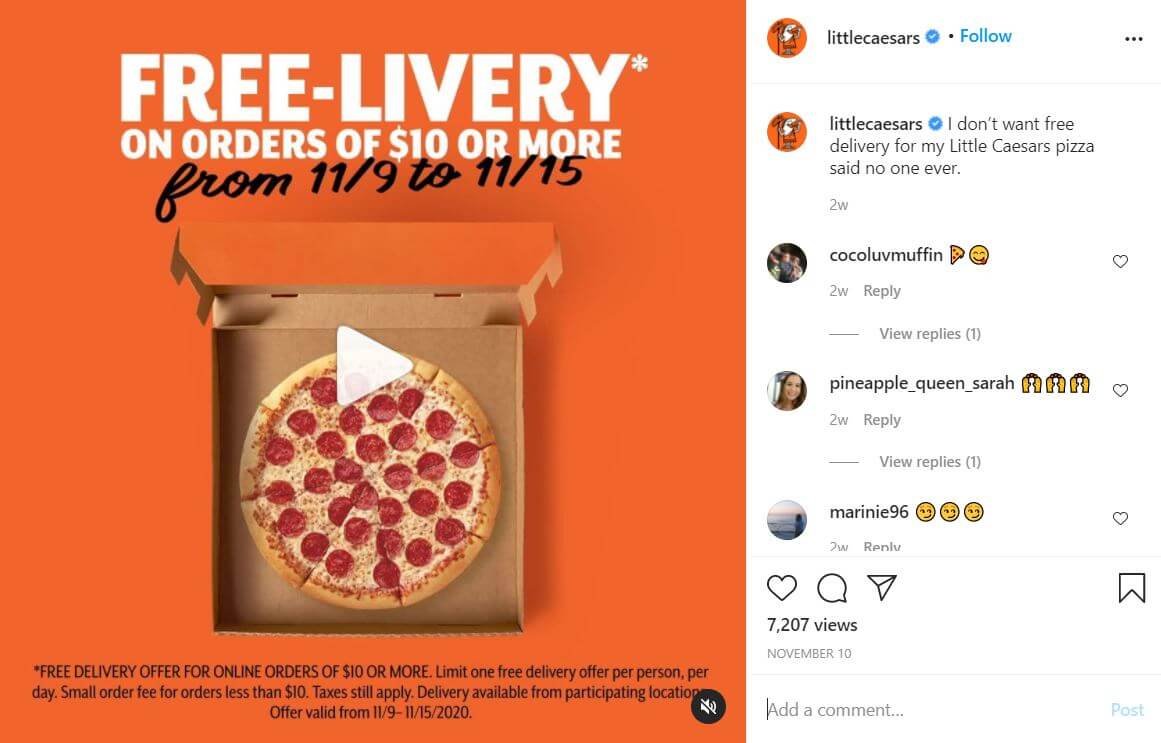 Instagram Captions that Make You Smile
Make your followers happy, bring a smile to their face – they would be grateful. In times when news bombard us with dark stories and dim forecasts, when people are constantly under stress, angry or tense, when we less and less often  look up to see the sun or the stars and we are deaf to birds singing – we need someone to light that spark in us – can you do that for your audience?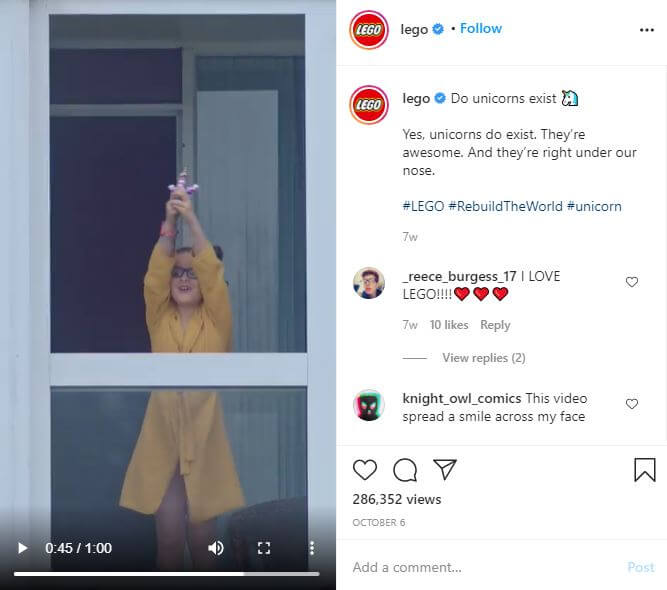 Maybe your Instagram captions would argue that magic exists, that there are miracles and that there is a magical land where all dreams come true. 
Inspire your followers' creativity and make them see the positive side of things. If you succeed they'll see you as a friend and as long as you've won their trust – you've gotten yourself a loyal fan base!
Instagram Captions that Let You Play 
I hope you haven't lost your connection with your inner child, because most definitely your social media followers haven't. Getting it touch with this curious little brat that hides in the shadow of every person's character can be your shortcut to your target audience's heart. 
Think about it – what does a child want – to be entertained, to play and then to play some more!
Now arm yourself with your magical wand and do some Instagram Captions Magic:
Instagram Captions that Turn Your Followers into Storytellers
Benetton are famous for their creative ads, well their social media strategy is just as eloquent as their print or video content. Here you can see how they invite their followers to control the story that unfolds on their Instagram feed: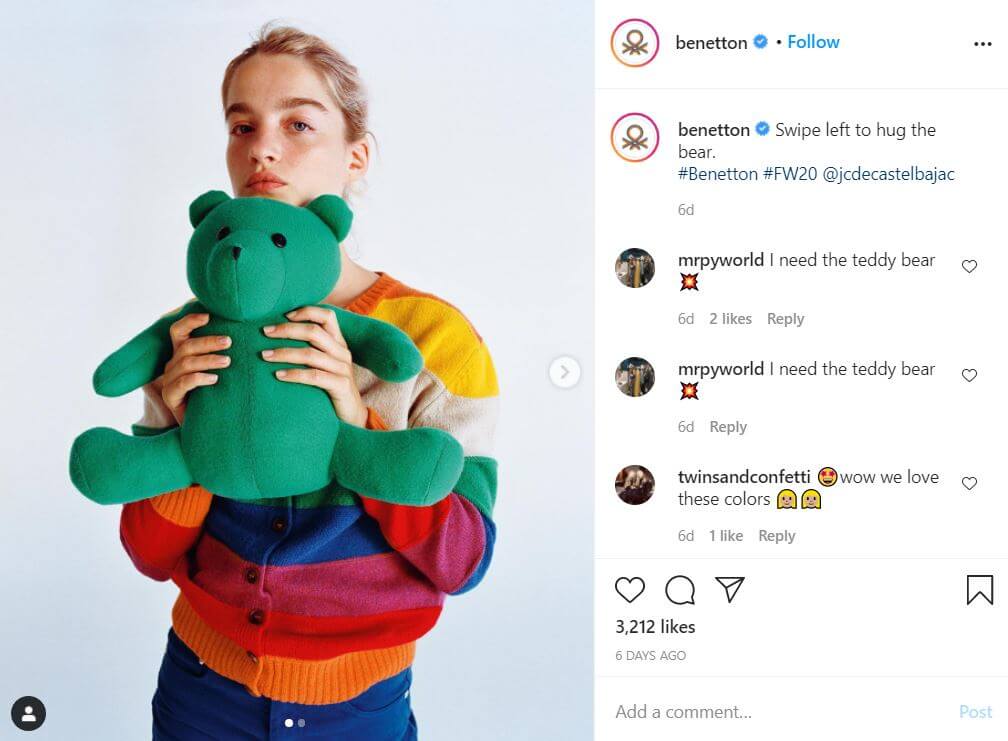 And when their followers swipe left …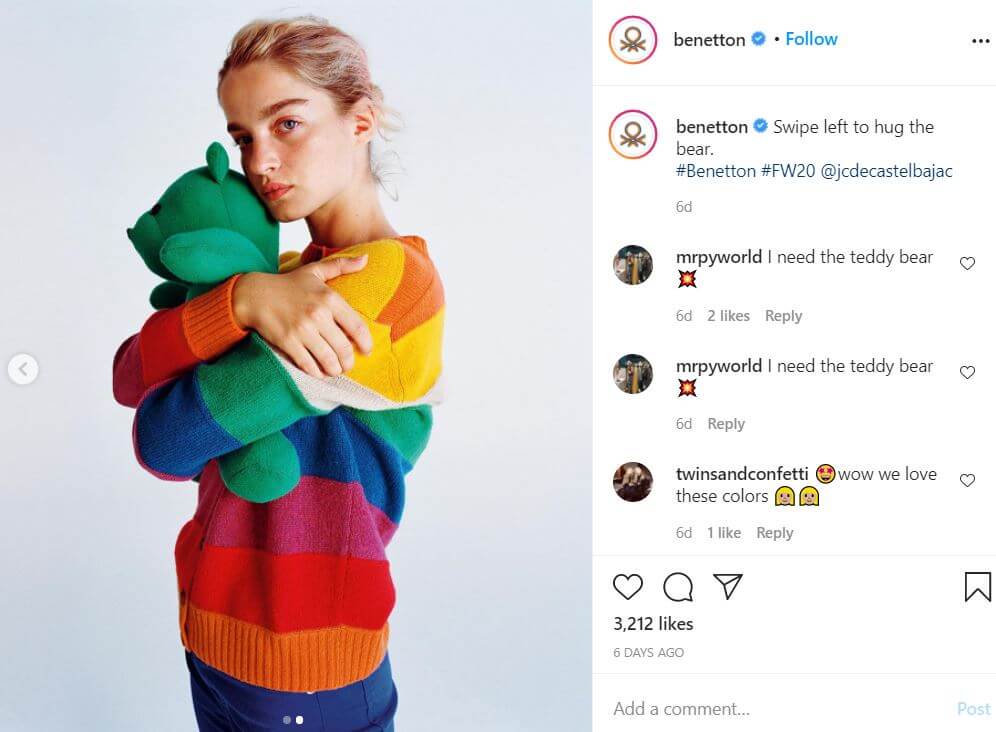 They get the finale they wished for: a bear hug. Just like the good old-fashioned gamebooks – you get a mini game experience that offers a bit of a modest thrill yet it is satisfying and out-of-a-box approach to move your followers. 
Instagram Captions that Launch a Contest
Have you organized a social media game? From simple invitation to leave a comment under the post to much more interactive engagement opportunities – you have a lot of options to go with. Of course the winner's reward does not necessarily have to be a physical product, but often proves to be quite motivational for the participants: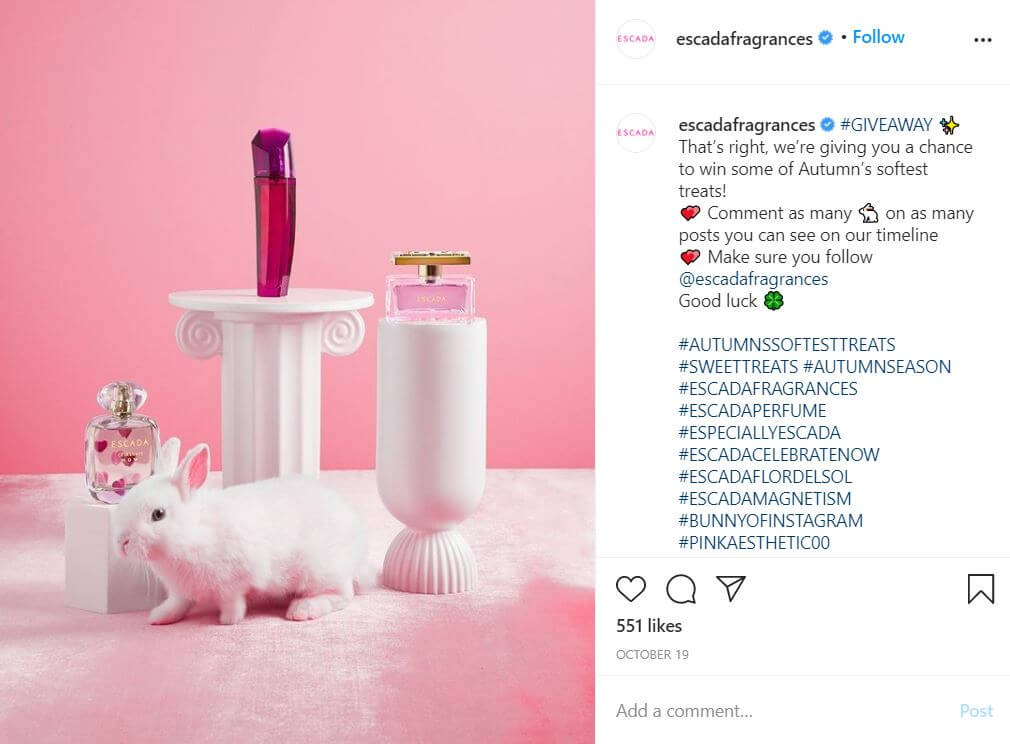 We start with the simplest examples of it all yet in a rather unconventional light – Escada promotes a giveaway and the participation 'fee' is a bunny-comment!
And then, taking it a step further there are those contest where you ask your participants to make an actual effort to win them, like for instance to take a guess: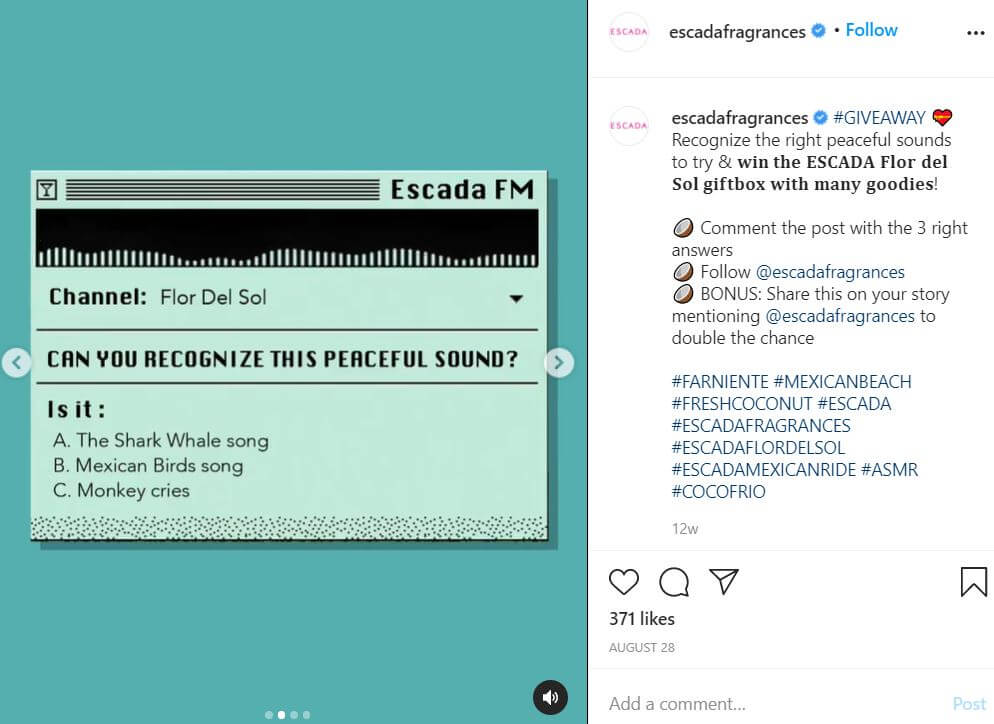 Now it sounds more like it – when you get challenged on your way to your goals your victories tend to taste a bit sweeter. That's what you'd better do with your Instagram followers: make them sweat a bit in order to rejoice the fruits of their 'labor'.
Instagram Captions that Provoke Imitation
Sometimes, quite often if you ask seasonal advertisers actually, people do not know what they need till you tell them. Our advice is: try to create a need. A need that your product or service accommodates: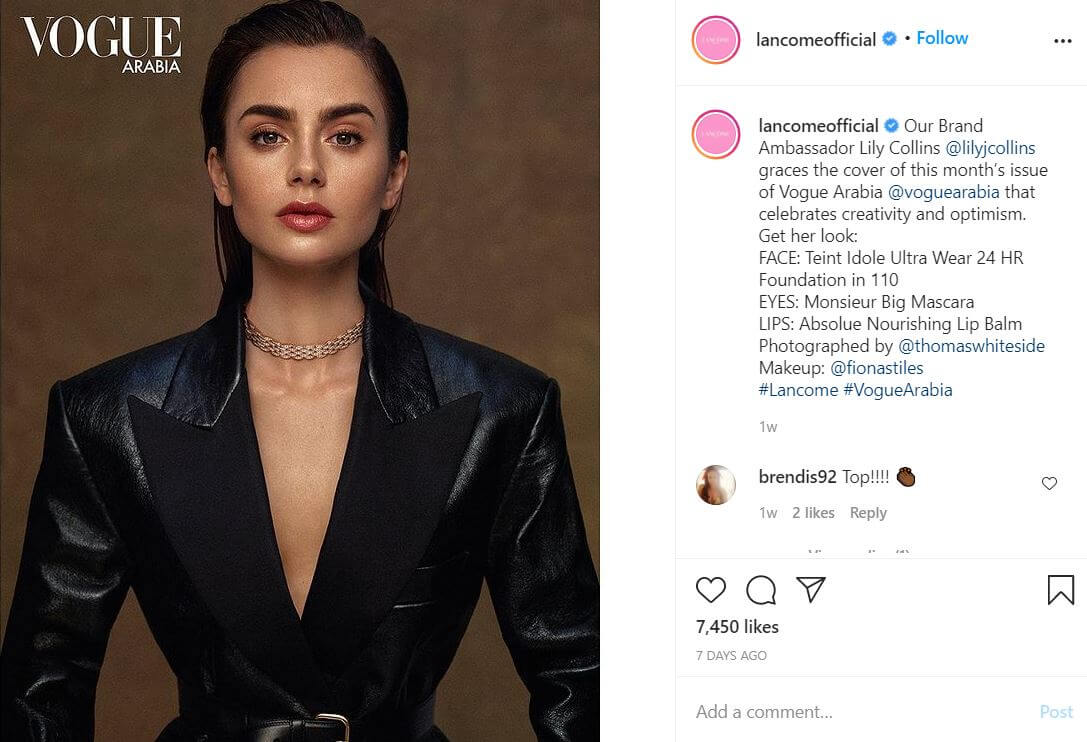 Wouldn't you like to look just like the celebrity on the last Vogue's cover? Lancome knows you do, or they actually make you aware that you do. 'Fortunately' they've got you covered – the secret recipe to this magical makeover hides in their Instagram post captions. 
You could turn this into series like Chanel's 'Eyes Monday':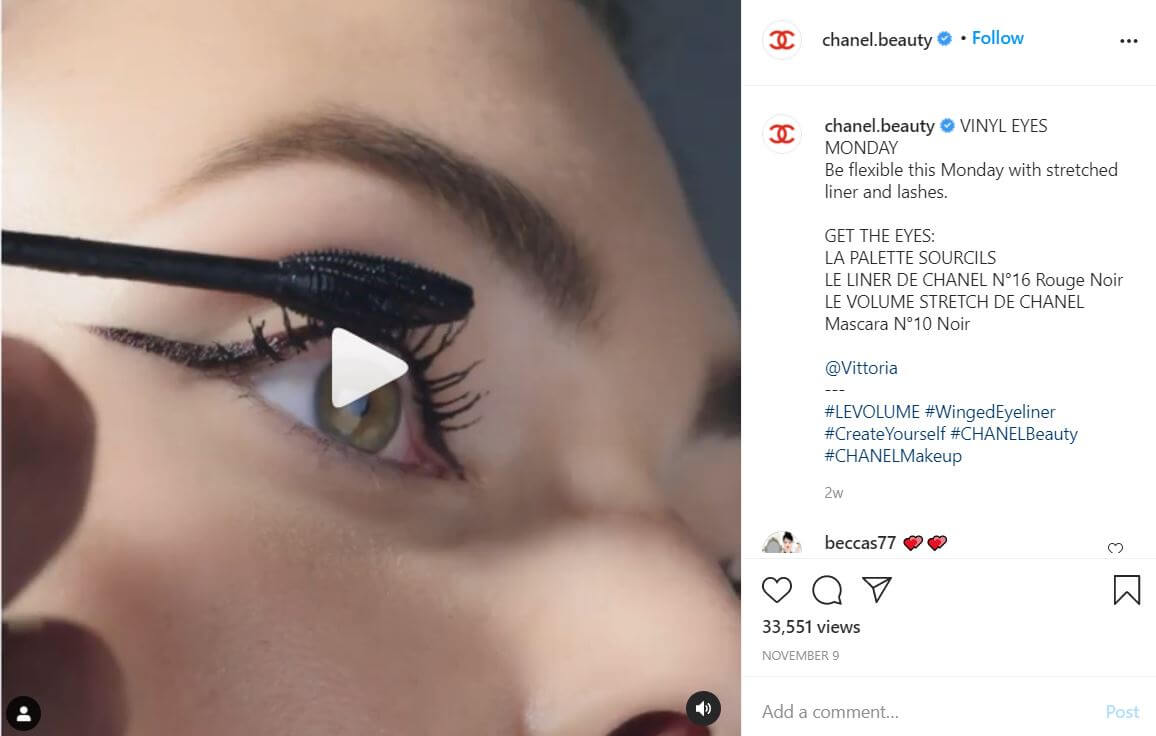 At first sight these Instagram captions might seem as the brand's showing their followers how to use and combine their products, but what their followers see is: new ideas to look beautiful and to get out of the mainstream image they might have been stuck with for a while. 
Instagram Captions as a DIY Tutorial
DIY projects are fun for all those creative souls out there. Do you think your target audience consists of such type of artistically skilled people? Then let them play a bit – offer them a project, keep them entertained: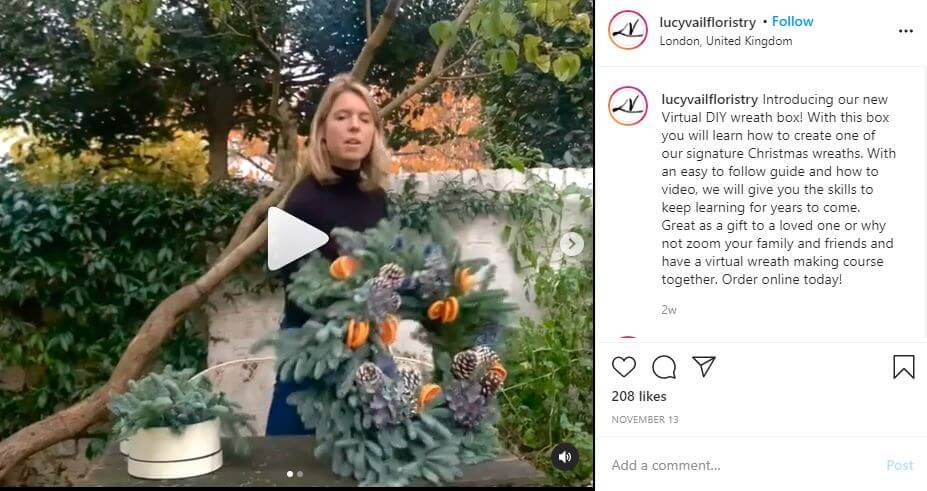 If your DIY tutorial captions turned out to go over an interesting project and were easy-to-follow, the chances are that your followers would step by your profile, searching for new ideas. Or, if they don't have the time or the persistence to actually make them work, they'll surely order the ready-to-buy products from you. 
Instagram Captions that Respond to a Request
Often followers request guidance as to how to use a specific company product. Whether you'd list all instructions in the captions or you'd use a video to better illustrate your point – that is all up to you!
Don't miss the opportunity to address your audience requests though – learn to listen to them and to deliver as often as possible: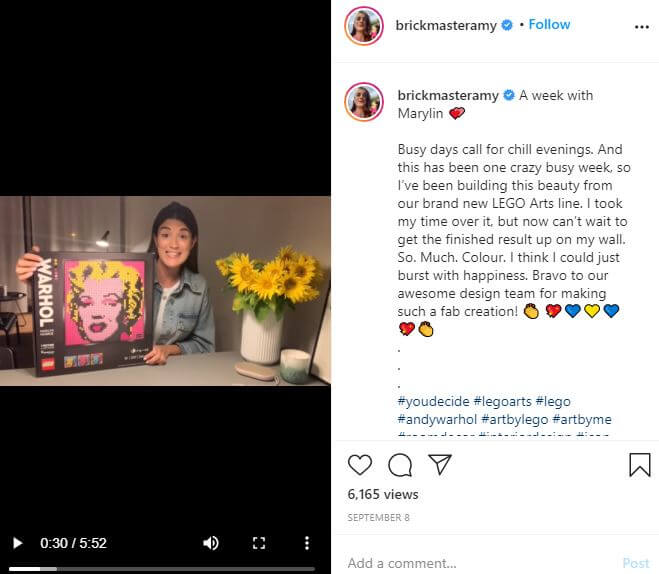 Here Lego's brand ambassador and employee Amy is taking time to do an unboxing video requested by her followers.  
Instagram Captions as Game Instructions
Ok, there's nothing better than giving your followers the opportunity to actually play while scrolling down your Instagram feed.
Word games are a good start. They are easy to grasp and quick to play, offering immediate gratification. So can you customize those to match your service or industry vocabulary? The guys at Little Caesers have done a great job: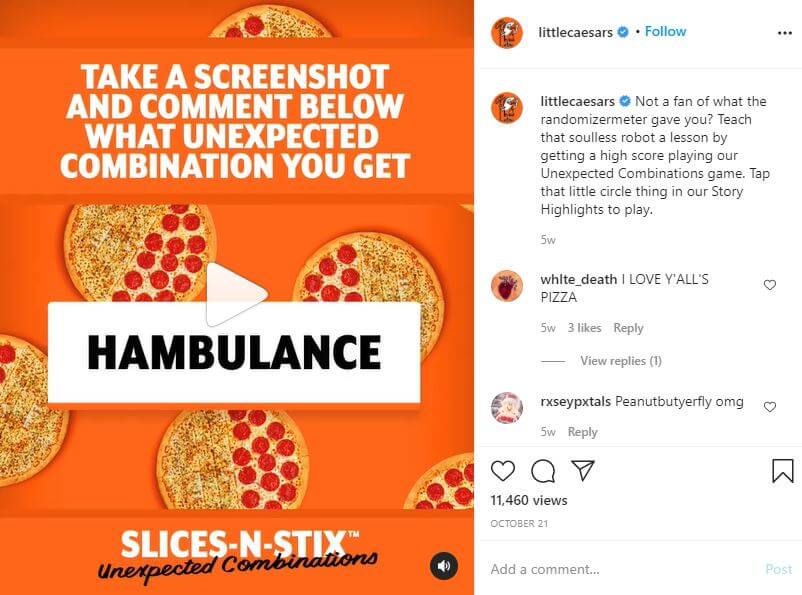 Instagram Captions with a Cause
Standing behind a cause means a lot when you wish to get closer to your target audience. You indirectly express your brand's character, your company's culture, your values and your social position. You focus on actions instead of talking and that's what actually makes an impact and huge impression. 
When you communicate information about the cause you support on Social Media you trigger your audience's emotions and it is much easier to make them react or involve in a conversation afterwards.
Instagram Captions Quoting a Celebrity's Opinion
The guys at Converse have drafted a community manifesto and have selected 15 Stars to illustrate their position. Their Instagram post caption helps them bring awareness to this initiative and build up an image of a brand that encourages creativity and artists.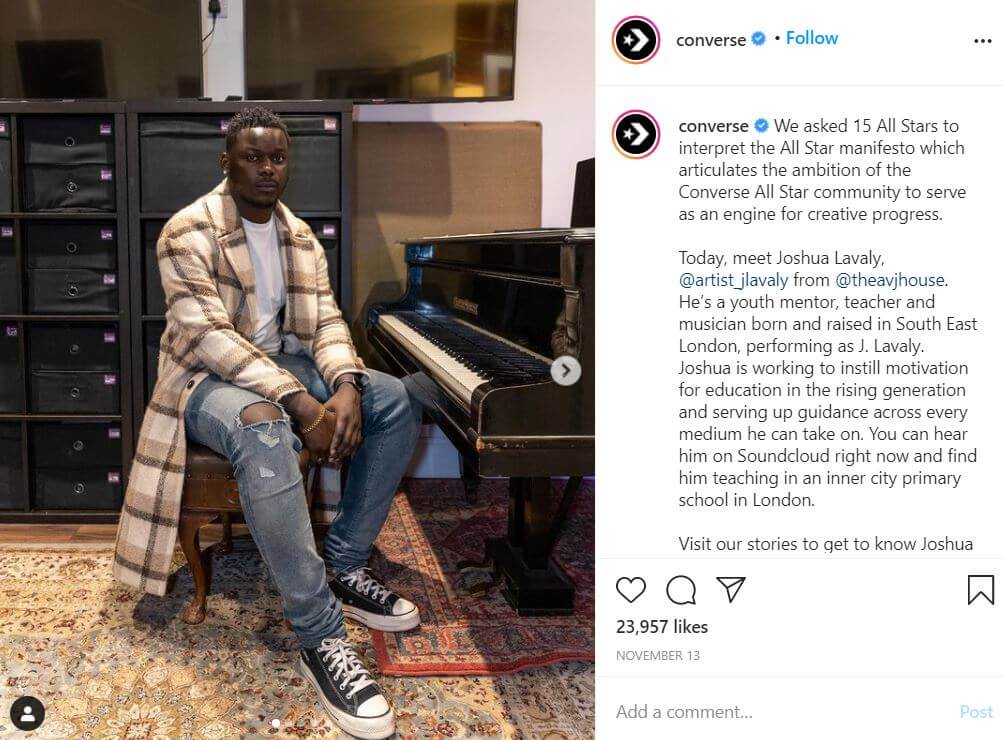 Instagram Posts that Illustrate a Charity Initiative
Be an activist in your community and share the initiatives you take part in or the ones you organize. Let your followers take a closer look at your company and values: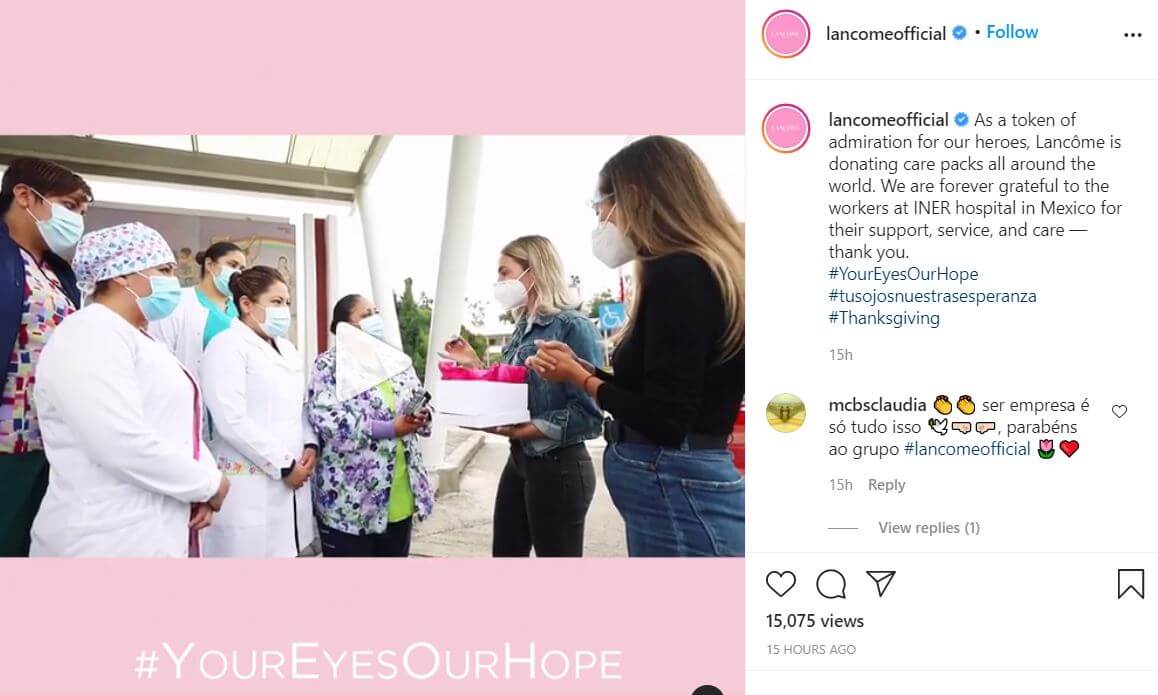 Instagram Captions that Show Economic Impact
Big brands have the opportunity to make a great impact on a community or on the whole country's economy. Make your followers proud to have recognized you as their company of choice: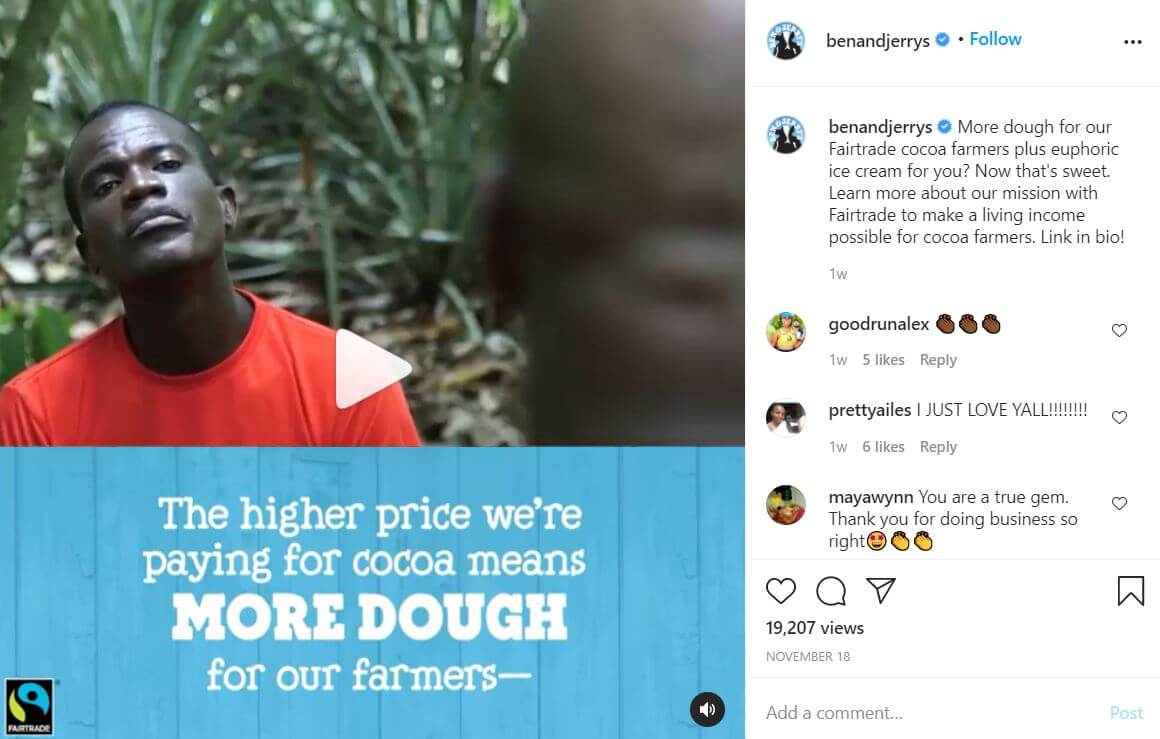 I think you've already got the grip of it, right? Can you try to adapt those tips to your Social Media strategy? 
Remember it is easy: think about the people you write your Instagram captions about while drafting your Instagram copywriting strategy, and you'll do a fine job. Exploring those facets would really give you that competitive edge because they involve more subtle and indirect client pitching and engagement process. 
So go on then, start building your loyal community one Instagram caption at a time!