Up until recently, marketers have sworn by the benefits of utilizing bite-sized video content to maximize views and engagement for their content marketing campaigns. With the evolution of mobile devices, data plans and search engines investing in longer video marketing strategies has become a popular trend. Long-form video content is making a huge impact with audiences and a huge return for brands.
What is considered to be long-form video content?
Any type of video longer than 2 minutes is considered to be in "long-form" style. The length can vary anywhere from that 2-minute mark to 30-minutes or in some cases, 60-minutes. These type of video content is typically styled more like documentary films, or episodic television shows that take time setting a tone and developing characters. Although, longer video production might be a little more costly, there are significant benefits to including long-form videos into your brand's content marketing plan.
Reason 1: Our technology has created an irresistible demand for long-form video content.  
The mobile device and connected world we live in today has had an enormous effect on the way audiences access and consume content. Not only do people take tiny television screens-mobile devices with them on the go, but with unlimited data plans and omnipresent wifi, content can be consumed at any time or place in the world without much expense. With more people streaming content who can also stream it for longer the opportunity to consume more long-form videos is abundant. Marketers are tapping into new consumer habits to maximize brand exposure and engagement by incorporating long-form video strategies in their comprehensive promotional campaigns.     

Reason 2: Long-form video content – the serialized content can pave the road to more revenue.
This reason isn't necessarily a good fit for all brands, but for mega-power social network like Facebook, long-form video content can have a tremendous impact on ad revenue. Facebook has recently launched Facebook Watch, which features content channels for popular brands as well as original content. With longer videos, the possibility for episodic storytelling becomes easier. An engaging series of videos that invites the viewer to return each week can increase the demand for ad placement and ad revenue.

Reason 3: Long-form video content drives emotional connection and drives out competitors.  
With the internet, consumers now have the ability to compare prices, looks, products, services and reviews of competing brands with only a few clicks. There now grows a new marketing strategy for brands to differentiate themselves in the competitive online marketplace. One of the best ways to connect and convert consumers  into loyal brand ambassadors is by connecting with them on a deeper emotional level. Long-form video marketing has the potential to do exactly that. By working within a format that allows for the depth and breath to develop characters, conflict and triumph, consumers might find a brand that exemplifies a more personal touch to their products and services. That connection is crucial to converting customers that might not be fully convinced that your brand is better than the rest.
Reason 4: SEO rankings will reap some serious benefits with long-form video marketing.
Search engine marketing has become an essential tactic for any brand looking to increase its visibility. Recently Google has changed its algorithm so that longer video ranks higher in search engine results than its short-form counterparts. Also, longer videos allow for more keywords in the video transcript and when optimized properly, this can positively boost rankings. In terms of engagement, longer videos will naturally keep website visitors on a web page longer, and longer web page visits always resonates well with Google.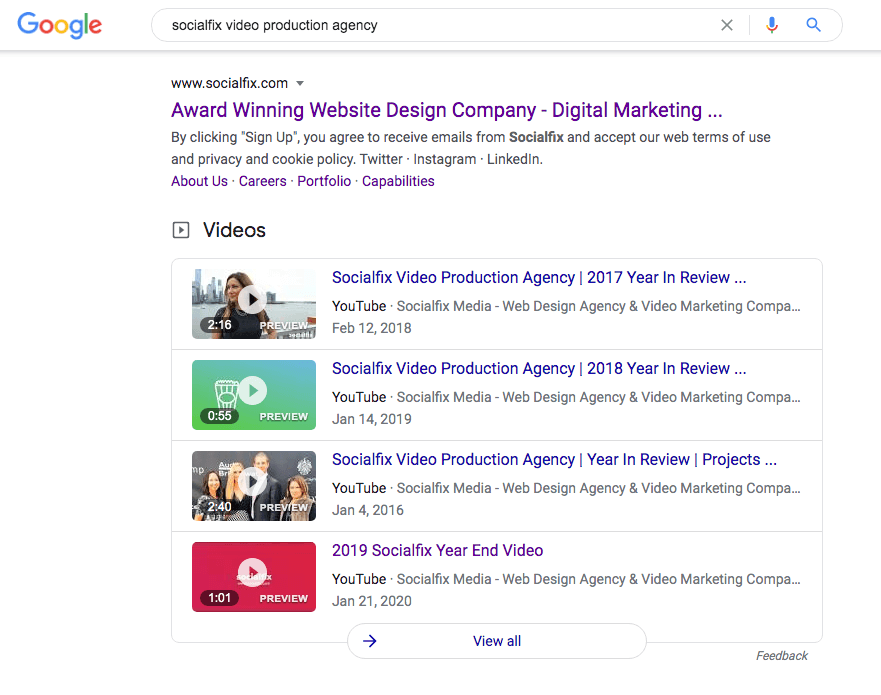 Bottom Line: It wouldn't hurt to start a discussion about long-form video strategy sooner rather than later.
Say hello, and let us know how we can help plan a long-form video content marketing strategy today.