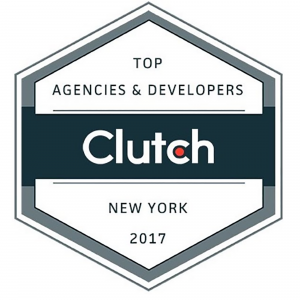 Socialfix was announced as one of the Top New York City Agencies and Developers of 2017 by Clutch!
Clutch provides ongoing research on leading B2B firms in New York to identify the top providers in the advertising, branding, public relations, social media management, SEO, pay-per-click, digital, mobile app development and custom software development industries.
Socialfix was announced as a top digital agency for 2017. We stood out amongst our competitors for our branding and digital strategy, digital design,  and digital marketing. We were evaluated on our market presence (services, clients, and past projects) and by client interviews conducted by Clutch analysts which are published as reviews on our company profile.
"All of the companies featured today have proven themselves as leaders in their industries due to their commitment to clients, passion for work, and ability to generate results." said Jenna Seter, Business Analyst at Clutch. We are honored to have been recognized by Clutch as a top agency in this space. With 12 years of experience working in the digital marketing space, we have become fluent in all digital forms of communication and marketing. However, we are most satisfied that our experience has contributed to our clients' success.
Most marketing companies don't realize that the digital ecosystem is changing so rapidly. New trends are emerging and transforming quicker than we've ever seen before. At Socialfix, we are attuned to the ever-shifting digital world and we embrace the change, delivering marketing programs that make the biggest impact. What sets us apart from the rest is our approach to our client strategy and project management. The relationships that we form with our clients evolve into partnerships where we can work collaboratively to provide tailor-made solutions depending on the industry and each client's respective goals.
Check out our profile at Clutch and how we have helped clients in the past, and how our digital services could enhance your company's marketing initiatives in the future.