The 2020 COVID-19 pandemic was not easy on the builders' industry and marked a firm change in its mainstream marketing practices. With consumers and builders alike shifting from uncertainty to lockdowns and back to uncertainty, there has been no clear path to business as usual.  
But surprisingly to many, the reduction in interest rates has created a very attractive marketplace for buyers and builders alike.  Prime lending rates this low are attractive to both parties and has led to a very aggressive boom in the residential sector.
The prime challenge now is bridging the void in the communication and property visitation processes that now exist, at least until a full return to in-person transactions becomes the norm again.  Many real estate agencies and builders see an opportunity and are banking on the idea that the "new normal" for lead generation and remote selling will not just be a thing of the present, but continue on as a path of convenience in the future.
Digital marketing approaches have proven to be a silver bullet for sellers looking to move property in times of COVID-19.  Not only to attract potential buyers, but also to provide the complete in-home experience. What was already a growing go-to tool in the seller's pocket, video marketing has been skyrocketing in value for both agent presentations and home walk-throughs.
The Benefits of Video Marketing During COVID-19
Realtor.com invested in a great video library quite in advance of the COVID-19 pandemic. Alongside relevant articles, informational videos are among the top pages bringing traffic to the company site. 
And while top performing blog posts remain the Celebrity Real Estate (describing properties that are currently on the market, but were previously owned by celebrities like Will Arnett, Mark Mastrov and John Legend) and Buy series (explaining topics like How to Become a Real Estate Agent, How to Find an Open House or What Is a Contingent Offer), their videos live a life on their own. 
Video content with a COVID-19 focus in mind includes video series like: Move (relocation advice during the pandemic), The Inside Scoop (Real Estate Market Insights during 2020), How to Sell (Reinvented pandemic guides), How to Buy (educating on how to hunt a home or negotiate an offer during the COVID-19 outbreak).
But why would an industry leader cash in on such a regular investment in video production if it didn't render positive results for their business? 
Well, it does actually. Videos prove to be quite beneficial for the builder's niche, especially during the COVID-19 era.
Here are your top 3 reasons to never stalk on this marketing initiative again:
Screens Have Become Our Eyes
With the stay-at-home recommendations, people are struggling to catch up on news, socializing, educating, and working via the Internet. 
We research, we compare, we even 'tour' properties online. 
And while the forecast for the average daily spend on online video watching for 2020 was 84 minutes, this figure further grows to 100 minutes for 2021. 
So your target audience is already all set behind their screens, finding the best way to engage those people would be your competitive advantage. 
And based on a number of studies, including Wizowl's Video Marketing Stats for 2020 we could conclude that videos:
Increase traffic to your website;
Increase average time the visitors spend on your site;
Help generate leads;
Directly increase sales;
Give a good ROI.
Flexibility Is Your Competitive Advantage
Staying up-to-date with the modern trends does not mean to revolutionize your online marketing strategy. However, it does mean you should aim at becoming more flexible to your target audience needs.
When social distancing recommendations advise us against in-door gatherings or smaller than 6 feet-distance interaction, property viewings like open houses and house tours start to count as risky social gatherings. 
In order to live up to the image of a responsible brand that looks after their clients' safety and well-being, you are to think of an alternative to those in-door gatherings and consider providing just as useful experiences like live or video tours for instance. 
Videos Mimic Real-Life Experience Best
High quality photos and slideshows are an invaluable source of information, but are those just as engaging? 
Videos are more native to our perception of the life around us. Property video tours would account for turning left, right, moving forward to the room ahead of us. By viewing a home via video we are more inclined to imagine ourselves inside its premises and that, in times of worldwide lockdowns is an irrefutable selling boost.
Video Marketing for Builders: Top 7 Strategies to Adopt
You have a lot of options to choose from when creating videos for your properties. Let's see what the top brands in the industry have put their money on:
Virtual Tour
The fact that an interested buyer has the ability to 'access' the property 24/7 and to view it room by room offers exceptional convenience and, as a result: utter satisfaction. 
The COVID-19 situation proves to be a good motivator to invest in detailed virtual tours. Some would call them 360 video tours, others will promote them as 3D video tours. Whatever your personal marketing approach is, remember that those tours are the first step on the buyer's purchase journey, so they have to be worthy.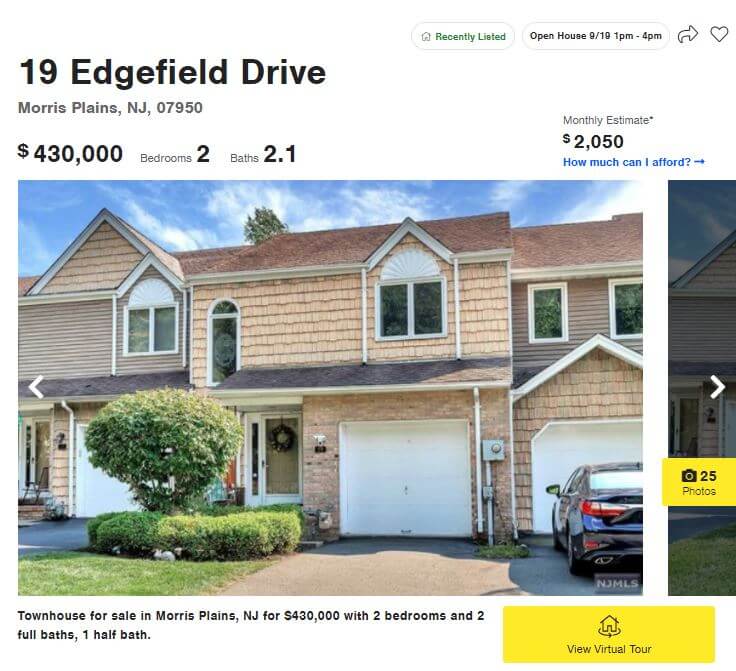 Example 1: Weichert's virtual tour invitation hosted at JumpVirtualTours 
Weichert have managed to step up the property content pretty well. For top rated properties, they offer a full pack of visuals – including: 
A slideshow video
An interactive floor plan
A 3D floor plan
A photo gallery
And property documentation. 
Now that is on-page content marketing taken to a whole different level. 
Drone Videos
The virtual tour often overlooks the scenery around the property. Almost always the neighborhood, the surroundings, the property proximity to nearby venues and sights is pretty important for the buyer. 
Location has always been of top priority in the real estate niche thus the reason why you should accent on that with some extra content. 
The New Jersey real estate agency for luxury homes, Douglas Elliman has seized the opportunity and offers on their company website free downloadable drone videos for some of the properties they sell.
The drone videos are not that widespread thus are quite appreciated when offered. The statistics show that aerial & drone photography sold statistically 68% faster than listings with standard images. So why not go a step further and add drone videos in your marketing plan to absolutely mesmerize your buyers?
Virtual Open House
Going down the marketing funnel, the buyer already shows an interest in the property and requests a meeting with an agent. The next stage is to schedule a guided tour that again could take place online. 
The virtual open house offers the buyer the opportunity to ask questions and to discuss the property with the agent.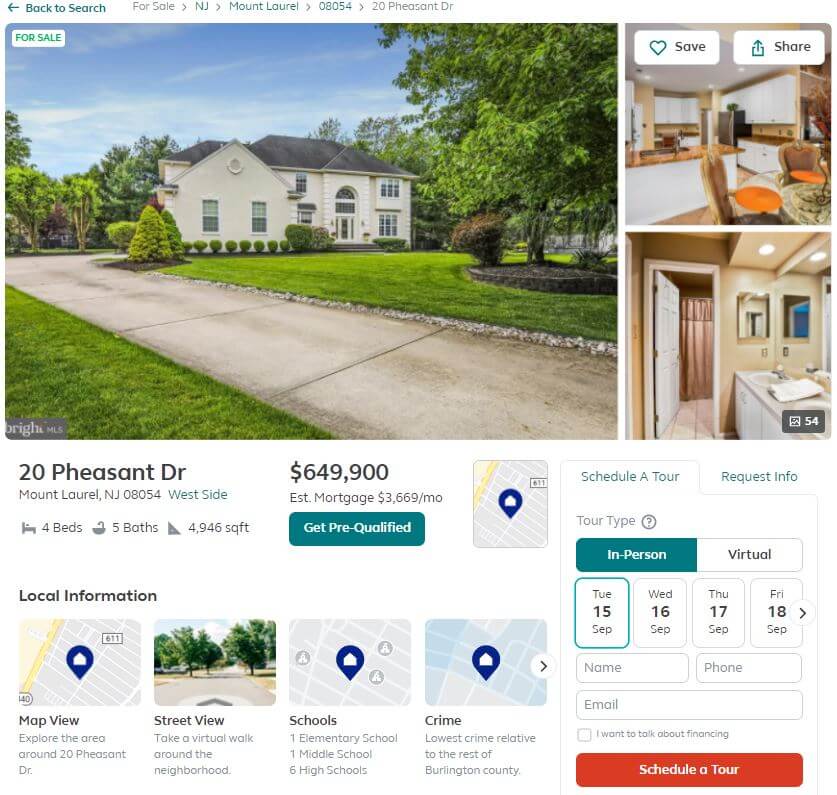 Example 2: Trulia's opt-in form for scheduling a guided tour.
An interesting alternative would be the Co Tour. Loopnet offer such video viewings of their commercial properties. A whole team of up to 20 participants could join in a virtual room and have a real-life chat about the given listing. Of course high quality video and sound is a must, so keep that in mind if you wish to add this video-based marketing strategy to your arsenal.
Buying Process Videos
COVID-19 has definitely affected the whole process behind a property purchase, making all in-person meetings impossible to take place. Video, on the other hand, has proven to be a fine substitute to real-life interactions and is now used for all the stages around the property buying process: 
Property viewing – personal virtual tours and guided virtual open houses;
Lending interviews – buyers interview lenders of their specific procedures and conditions;
Property inspections – during the pandemic the property inspections are conducted on empty properties and the findings are then communicated and shown via video calls;
Closing videos – closing on a property sale is also recently done while on a video call;
Videos for Your Blog
Of course one of the most common video applications for the real estate property niche is the blog content. 
As previously mentioned Realtor.com does a great job on that front, so you might want to check their strategy and consider how to reinvent your blog posting marketing plan.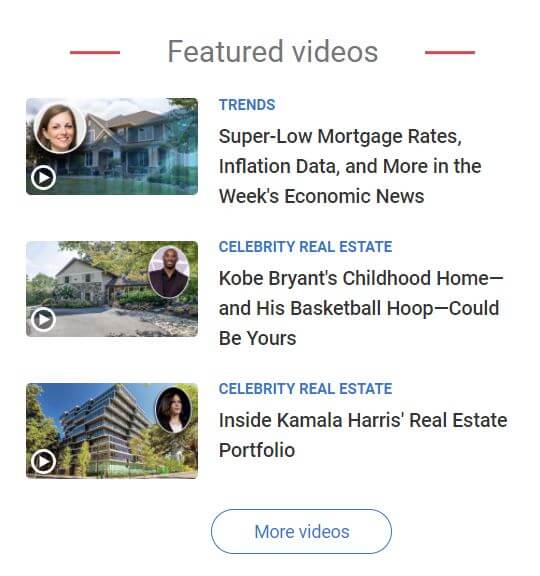 Example 3. Realtor.com's video library section
The Social Media Videos
The video content for your social media account should not necessarily differ from video blog content. You could take the videos from your blog and promote them on Facebook, Twitter, and Instagram. 
Of course you could draft shorter pieces for Facebook and Twitter if you feel like being extra diligent on adapting your content to all platforms.

Example 4: Realtor.com's Facebook Video Section
The Video Testimonials
Last but not least, as it comes to video content – do not underestimate the power of clients' testimonials. Gather customer reviews, the video format would be your best choice, and publish those on your website. 
You could repurpose those and share them on Facebook and Twitter as well. Put daily effort in building your authority and results won't delay.
Videos could require certain investment, but their ROI is indisputable. Don't wait for them to become the industry norm in order to adopt them in your online marketing strategy. Be brave enough to line besides the early adopters and you won't regret the traction this new competitive advantage wins you.