Clutch Names Socialfix a Top B2B Agency in New Jersey for the Sixth Time!
Aug 26, 2019 by Socialfix
Did you know that content marketing gets three times more leads than paid search advertising? What can that mean for your business? It means more digital traffic, more visibility, and more chances for you to convey your message to the world. A healthy balance of a digital presence can be the missing ingredient, and we have been delivering just that for almost 15 years. We are thrilled to announce that for the sixth time, Clutch has named us a top B2B agency, this time among advertising and marketing agencies in New Jersey!
Clutch is a B2B ratings and reviews platform that works to connect businesses to service providers best-fit for the next business project. Clutch analysts conduct extensive research in order to properly rank these companies, looking at aspects like their market presence, work quality, and client experience. Verified reviews from former clients of service providers are at the core of this research, gathered by Clutch analyst over the phone. Our 11 positive reviews have landed us a spot as a leading agency in the New York metro area on Clutch!
"Being recognized by Clutch in multiple categories is so meaningful to my business. We feel lucky to have worked with so many great people and organizations that have helped our company earn a position as one of the top leading agencies in New York / New Jersey."
-Founder, Socialfix
We are also excited to be featured among the leading digital agencies on The Manifest, a Clutch sister site that published business news and how-to guides with business advice for firms big and small. We also have a profile on Visual Object's platform, another Clutch sister that allows businesses to showcase their professional and creative portfolios.
We are excited to continue being a Clutch Leader in the years to come as we grow our presence on these platforms! We'd also like to sincerely thank our clients for taking the time to speak with Clutch about our work together. We value each and every review and look forward to receiving more! Feel free to contact us today to learn more about what we can do for your business.
Featured Posts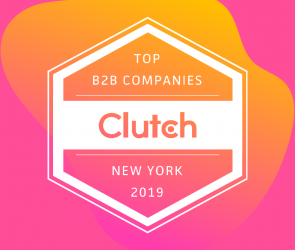 We are honored to have been ranked on the list of the leading New York City B2B companies for 2019 by Clutch.co! In an ever-changing digital world, it's essential to be on top of the latest trends and have an ally in the industry you can rely on for guidance and support. A strong online presence
Intelligent, Agile, Fearless
Data-driven, results-oriented strategies.
We immerse ourselves into your company culture, positioning and brand message. We learn what makes your company tick, what your business goals are, how you approach your target market. Armed with this knowledge, we get to work and formulate winning strategies for your brand!
Featured Video