Are you ready to reinvent your e-commerce marketing strategy? The race is long and you should pace your efforts and prioritize your goals accordingly. 
Below you can go over our Ultimate E-commerce Marketing Strategy List for 2022!
Check out these useful tips: 
TikTok Campaigns
Online referrals
Customer testimonials
And more
Ready? OK, great, let your knowledge quest begin: 

Managing an e-commerce site requires much flexibility and innovativeness. There are a lot of things to keep in mind when it comes to: 
Planning the on-site UX and site visitor's journey;
Actively promoting the brand online;
Optimizing the site structure and content to appeal to search engine requirements.
It's an intricate science to go over each one of those three stages, but one should start from somewhere, right?
What about cashing in on a great content creation idea first!
Video Production at Scale
Ready, Set, Rolling!
If you tend to catch up with online trends you've most certainly stumbled upon a number of video-related stats that overpraise videos as the content format you simply cannot ignore in 2022. Plenty of industry researchers compete with each other to prepare marketers for the nearby video revolution:
Videos are by far the preferred content format on Social Media. They generate more shares and overall engagement as compared to plain text or images;
Videos are proven conversion boosters, especially if embedded on landing pages; 
Videos increase site traffic and dwell time on site;
Videos help increase brand awareness, generate leads, and boost sales.
But let's explore the full potential of video marketing. There are so many things that you could try out when you invest in video production campaigns. The sky's the limit, really. Do you wish to brainstorm together? Let's go: 
Live streaming is a top engagement video format that has gained huge popularity, especially during pandemic times. Its innovative outlook where viewers can instantly order the broadcasted product becomes a real hit for e-commerce brands.
L'Oreal is proud to have introduced 300 digital services within the year 2020 alone. In the example above you can see their Virtual try-on during Livestream and LiveShopping
Create an animated explainer video for your YouTube audience. According to Animoto back in 2019 YouTube replaced Facebook as the #1 platform that affects consumer behavior
Video record your customer testimonials to show them off on your company website and positively affect conversions;
Create video series where you answer customers' and followers' questions;
Embed How-to videos on your sales pages to better illustrate product usage;
How to use Pampers pants is an endearing video following in the How-to category. Simple, sweet and short – what more you'd like from a baby brand commercial?
Pimp up your Case Study landing page with an actual video of your project development and customer's feedback;
Repurpose stale blog content – turn a grabbing article topic into your next video piece that you can share on Social Media. A good idea would be to split it into several short consecutive videos. You could also replace old pdf files uploaded on your website with videos.
Interviews with industry experts, influencers or celebrities are a well-acknowledged marketing tactic that boosts site traffic and user engagement. Why not have a video interview and enjoy the fruits of your labor to the fullest?
Behind the scenes videos are great for introducing your team, your company culture and internal processes. They will help you make your brand look more human in the eyes of your target audience;
Ikea's behind the scene video on their Thisables commercial reveals the company's focus on people with disabilities and how they attempt to address their specific needs  with their products
Encourage the creation of user generated content by reaching out to influencers and inviting them to do a product review video or an unboxing video for you;
This Garbage truck unboxing video is definitely a winner. The joy on this kid's face playing with his new recycling and garbage trucks would surely help a number of parents quickly draft their next  Christmas shopping list. 
Ensure high open rates of your emails with embedded video content. If video usage results in increased engagement rates, you surely would find them handy in your prospect outreach. 
Before and after videos are great for product promotion. Think about the beauty or apparel industry, they use before & after videos all the time. However, you could adapt this video format to almost any product: even a home tool kit could be promoted with a home renovation (before & after) video, right?
Revlon's transformation video show us how a before-after concept could inspire and amaze the target audience.  
Time lapse video production requires a lot of patience, but they are fantastic attention grabbers, don't you think?
Budweiser time lapse video is a fun way of illustrating how beer is a good companion of those who are having fun.
You are out of inspiration? See what your competitors are on to. Maybe their video creation efforts will give you fresh ideas on what can work for your own brand. 
TikTok Virality Exercise 
Challenge accepted!
You are doing a great job on Facebook and Instagram at engaging your peers, I am sure, but have you tried out TikTok already? Well, you should!
TikTok offers great opportunities to brands. As compared to FB and IG, TikTok makes it possible to reach out to new potential customers for free. TikTok renders content to its users based on people's interests. Good news is that your content could end up on the "For You" pages of people who are not even following you and that's simply because your content is trending or matches their set of interests. 
And while on FB you're bound to pay in order to reach out to new audiences, on TikTok you simply need to create a really valuable video that corresponds to the current community demand. 
There are video formats on TikTok that are particularly liked, but you can always experiment and come up with a custom approach of your own. For starters just consider going mainstream and do something of the following: 
Pick up a trending challenge and create a video for it. You could come up with your own branded challenge, of course, just make sure to take time to popularize it among a few influencers, in order to gain that viral push you need at first. And remember to come up with  a unique hashtag for your campaign.

Many of the challenges accent on humour thus are so well in their virality, maybe you could gather some interesting insights from hashtags like #attentionchallenge, #coupleschallenge,  #getupchallenge #siblingchallenge.
TikTok dancing videos could also be considered as challenges, yet they are worth a bullet on their own! Given that the music beat is often an essential element of a TikTok video, short dancing performances are particularly trending among the younger audience.
Building up  your dancing TikTok videos on a solid cause will really make them a valuable content worth sharing andreplicating.
Lip Synch videos are another video type you could invest in. If you wish to make your audience laugh, this is surely a good way to achieve your goal!
Eyes Lips Face viral campaign that Elfcosmetics commissioned a song for is an absolute hit on TikTok. Thousands of girls are doing their own lip sync on its lyrics and are indirectly promoting the brand on a daily basis. 
Video tutorials are particularly useful and liked at TikTok. Help your target audience imagine the different applications of the product you offer. 
This original Starbucks recipe for IT Frappuccino got 5.6 likes and thousands of comments on TikTok! 
Creating your own branded filter is a nice way to spread the word for your product. If you have the expertise and time to invest in such a type of brand awareness campaign, your efforts would surely be rewarded accordingly.
Song imitation videos are simply hilarious. Promote your brand with a sense of humor. Be careful with the lyrics – let those correspond with your company culture and voice.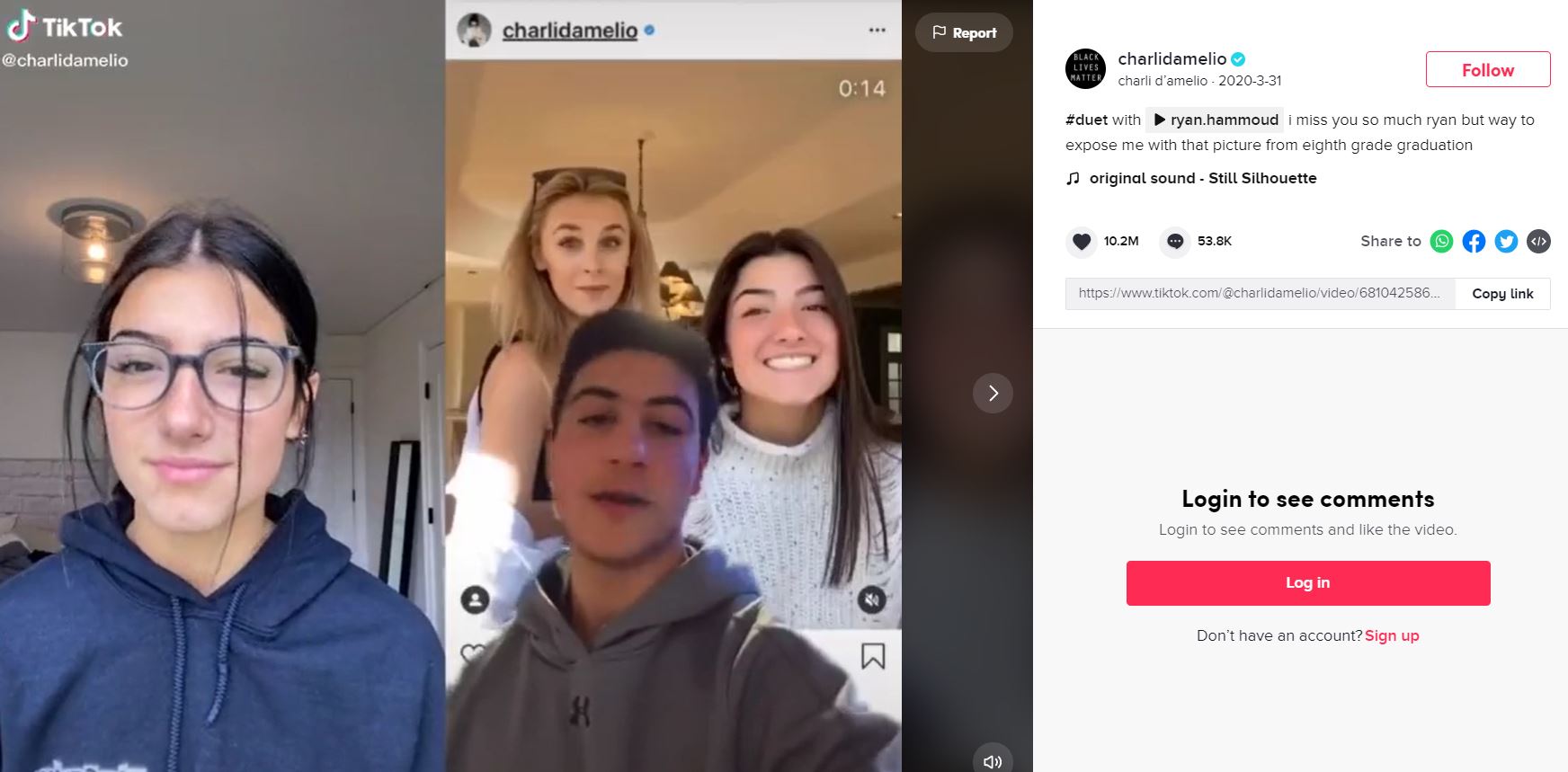 Dialogue reenactment videos are another idea where you could shine with your sense of humor. Keeping your audience entertained is the right path towards their hearts.
Chipotle is making a real breakthrough on TikTok. Check one of their sketches of a real-life conversation between a couple that's wondering where to have a bite. 
Animal or baby videos – no one could resist the cuteness of endearing animals and babies. If you wish to add some natural sweetner to your TikTok marketing cocktail – animal and baby videos will do the trick. 
What's the best way to create an interesting TikTok content – to combine two winning content types (a challenge and a puppy video), of course, and back them up with a fun idea, which in this case is the: puppuccino!
Science experiments would be great video formats for brands that are in the food and drink industry. 
Makeover videos are the preferred type of content produced by the beauty and fashion industry.
In this case an influencer has made a makeover video in order to promote a product. Going for a different look to express the feel of tasting the product is a creative way to shoot a natural video ad.
Freeze frame videos are fascinating to watch. Often they are used for optical illusions and humorous effect and are opportunities worth exploring. 
This TikTok is a great call to Disney – a freezeframe shot of a girl holding Tinkerbell in a glass.
Live videos are also a thing on TikTok and you could use them accordingly to communicate company news or a product launch. Live videos deserve a noteworthy piece of info to be shared, so make it count!

Onto the Quest for Online Mentions
Let them talk!
Stepping back from social media campaigns, let's continue our 2022 E-commerce Marketing Checklist with some PR techniques. 
How can you attract the public's attention to your e-commerce business in a way that it will also positively affect your online presence?
First let me help you define your goals. You need to get the chatter going, but not every online media outlet will do. The best-case scenario would be to have your business mentioned on relevant industry blogs and news sites. If you are targeting potential customers within a specific area rather than addressing the national audience, location-specific websites are another fine referancel choice. 
Search engines and Google in particular relies greatly on backlink signals in their ranking algorithm. The more authoritative your links are – the stronger the signal you send to Google that your website and brand are note- and trustworthy one. 
Here are some pointers that could help you draft your own strategy towards accumulating valuable online mentions: 
Trace down your unlinked online mentions and turn them into backlinks. Now there are a lot of ways you can approach this, the easiest one being using Google Alerts. Set specific keyword alerts associated with your brand, company and product and monitor them on an ongoing basis. As long as you are a seasoned brand with some kind of publicity work done before, there is a great chance that you have been mentioned without having been credited link-wise. 
Research where online your competitors got mentioned and reach out to those media outlets. There is no guarantee that each of the competitors' backlinks would be valuable, so do a prospect assessment instead of blindly replicating their links. There will be websites that wont agree on featuring you next to your competitors, but don't despair. Try to find similar websites and reach out to those instead. 
 Co-market your brand with other companies. It may sound difficult of an endeavour, but in fact the positives of such a campaign exceed greatly the initial efforts invested. Think of a Coca Cola and Burger King partnership – food and beverage companies that finely complement each other. What about BMW & Louis Vuitton partnership – sounds like two luxury brands have raised the bar to team up their audiences for higher reach and conversions. Working on a project together with a partner who addresses the same target audience would help you rule the headlines in your industry.
Content your way to journalists and bloggers. Create innovative, provoking, and/or amazing content for the online community. It would be easily picked up and, maybe, if you get lucky, it could go viral and the backlinks to your site will start pouring in. 
Publish fresh content on your company website. Blog sections are the best place to do that. Whether you'd post articles with industry surveys & research or podcast recordings, videos and infographics – they all have the power to move the needle for you. By continuously updating your website with valuable and industry-relevant content, sooner or later your work will get noticed and referred to by other bloggers and media experts. 
Share your opinion on a trending topic. If people are showing increasing interest in a specific type of content you should address their demand. 
Get featured in consumer guides – this is an alternative to the blogger outreach idea from above. Make sure you trace down any buyer guides that cover your niche and request a place in it. Do it not only for the ranking perks the backlink gives you, but for the targeted traffic that you may get.
Popularize your clients' user-generated content 
Sponsor industry events, causes related to your local community, etc. Sponsorship could take a number of forms from helping out a charity group to financing a local kids soccer team. The most important thing is to align your sponsorship strategy to your company culture and communication campaign.
By setting an affiliate campaign you'd have a number of online references, hopefully many of those would be from credible and established sources. Bloggers are on the lookout to monetize their websites, so as long as an affiliate program fits your business model, then you'd definitely find people to sign up for it.
Let Your Customers Do the Job
Word-of-mouth praise!
Often the best and most natural promotion strategy is to let your customers become your brand advocates. Word-of-mouth marketing is by far the most amazing marketing approach though it requires great involvement, planning and, of course, outstanding product and customer service. 
The power of honesty and passionately sharing your personal experience with a given company is what tempts other potential customers to try out the brand's product line. The desire to catch up with the novelty and/or to become part of the crowd is what really helps WOM to work on a mass scale and to result in high ROI.
WoM is a great way to promote your brand and grow your sales without facing the ad spend. 
Let's see how you could start building your WOM strategy:
Organic WOM is a process that companies are rarely planning. The positive company buzz spreads due to the utter customer satisfaction of the company's products and service and is not artificially stimulated in any particular way. If your brand gets associated with such buzz, then congrats! You got it right!;
Hashtag campaigns are another way to make a WoM buzz. If you go for a completely new and unique hashtag campaign you'd see how it gradually gets picked up and more and more people start using it in their own content. Don't fear starting small WoM has a wave effect, if done properly. 
The following example of a hashtag campaign introduced by BurgerKing during the Super Bowl faced huge traction. Of course, #eatlikeandy campaign was backed up with amazing content – a 45-second video of the late pop celebrity Andy Warhol, who ate a Whooper.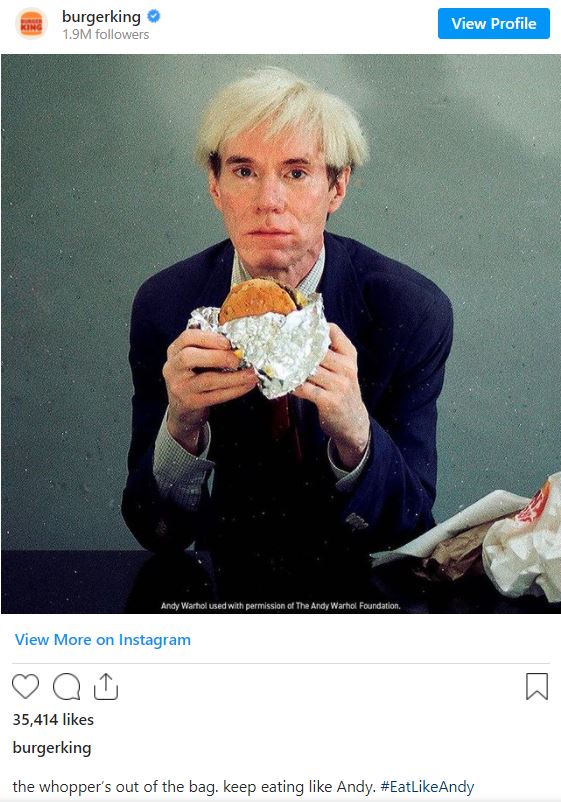 WOM based on content creation – having an amazing idea and creating fresh content behind it is the best way to start a WOM buzz. In the example below you can see how Wendys adapted a word-famous meme to their brand needs and the result is pretty obvious: 36,540 likes, a number of people tagged and comments posted under it.
WOM based on user-generated content – if we pay enough attention to our audience, we could get amazing feedback that we could not only use to improve our service and overall performance, but we could incorporate in our Social Media Content Creation strategy to boost engagement and WOM buzz;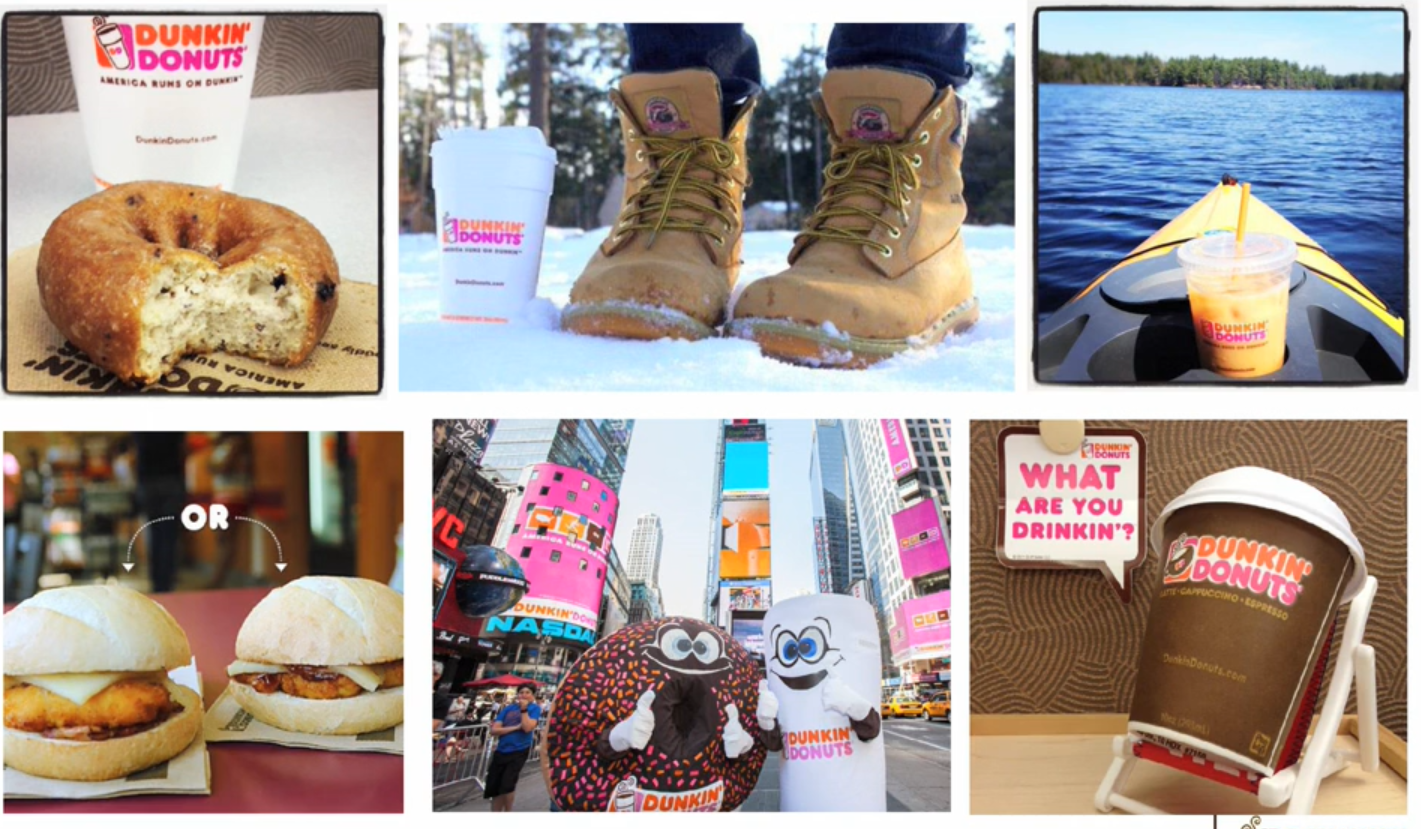 Dunkin' Donuts are getting UGC on Social Media on a daily basis and utilize it in their marketing campaigns. The mantra they run by reads:
"We don't own our social media channels, our fans do!"
WOM based on influencer marketing – once you get an influencer on your marketing team their content starts a WOM life of its own. Just check the influencer's post from below: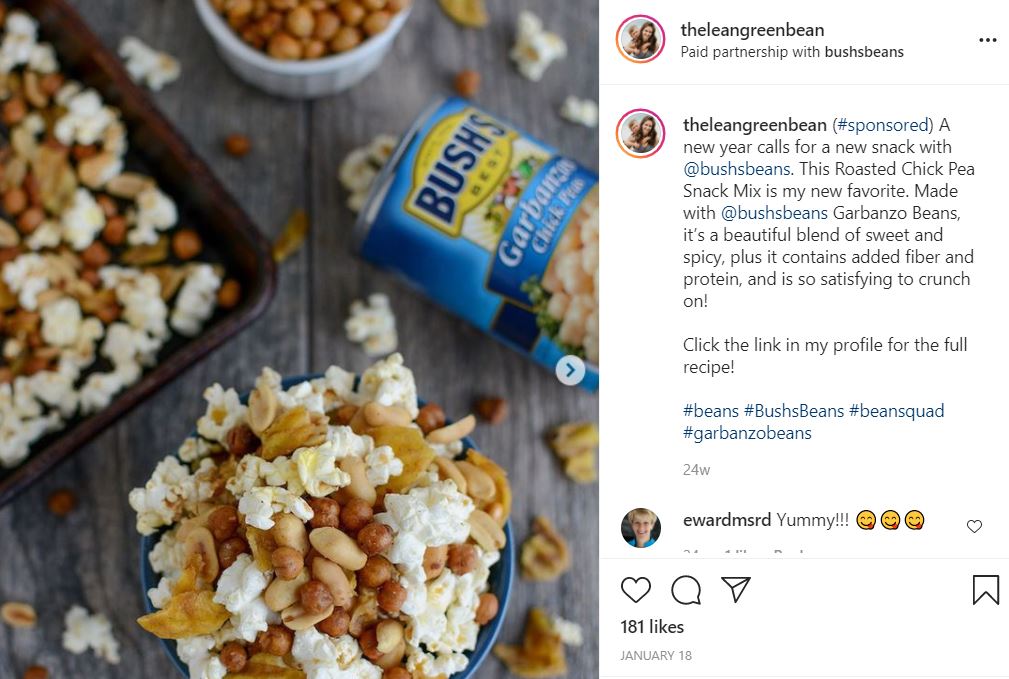 Her followers are excited with the recommended mix and are eager to explore this opportunity. Some are admitting they are "drooling", others can wait to try it out: "Ohh never thought to add the garbanzos to a mix! Love this idea!"
WOM based on customer reviews – popularize your customer reviews, brag with those and reshare those on your social media to get the buzz going ;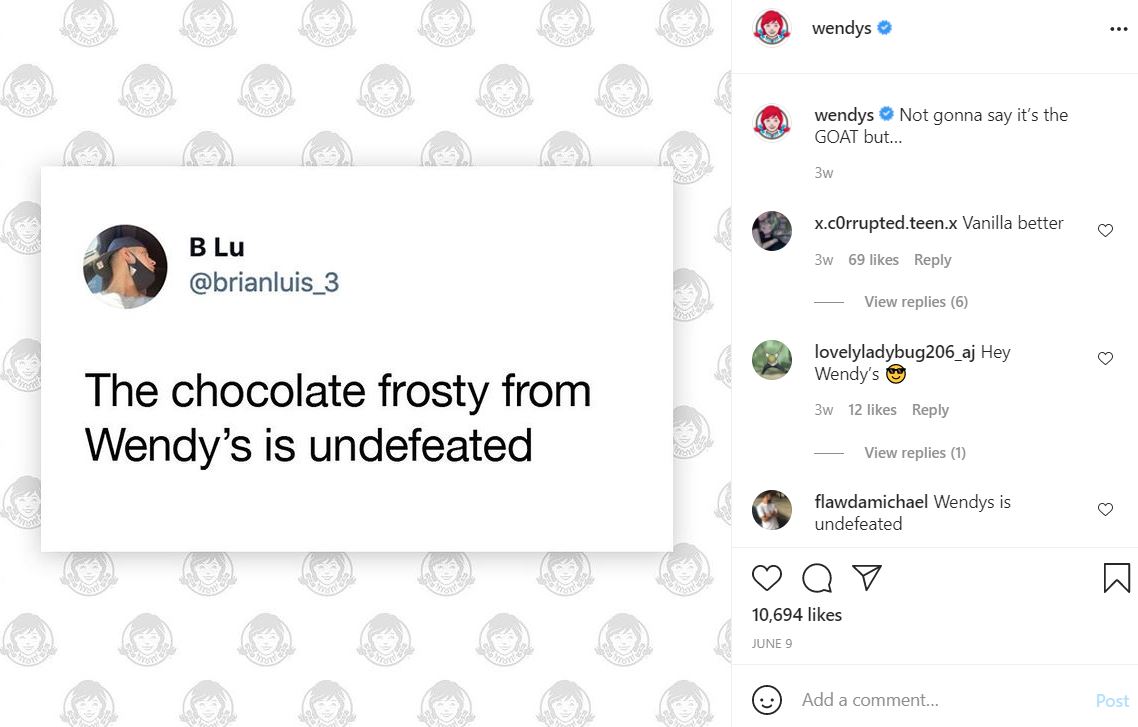 WOM based on a referral program – customer referrals should definitely be encouraged to trigger WOM buzz. You wonder how to approach this properly? In the example below you can see a state-of-art execution of such Embassador Invitation made by Hustle: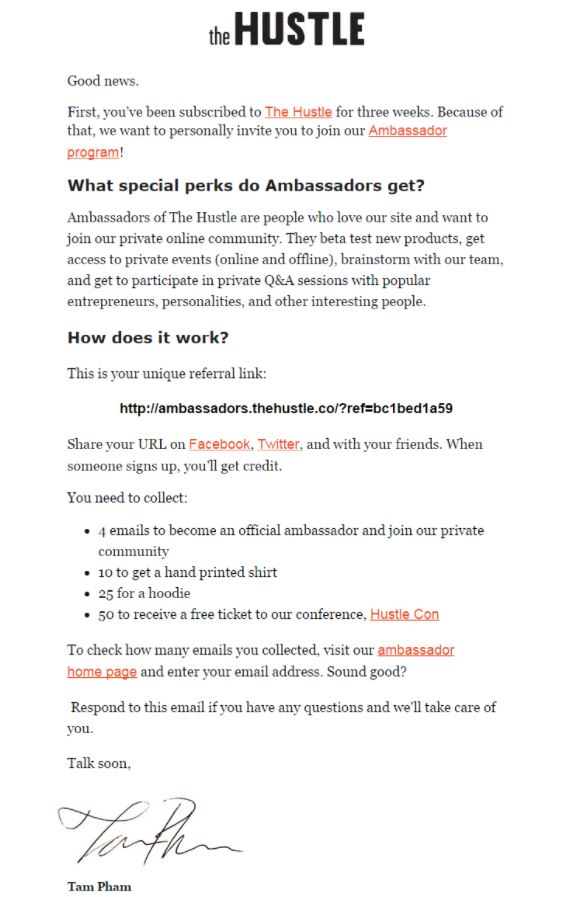 Hustle's Ambassador Program aims at triggering WOM buzz. Ambassadors are tempted with a list of rewards and the special perks of belonging to a private community.
WOM based on Social Media Marketing – encouraging retweets/shares is the way to start a WOM campaign. Here's a great example on what occasions brands tend to employ this particular technique: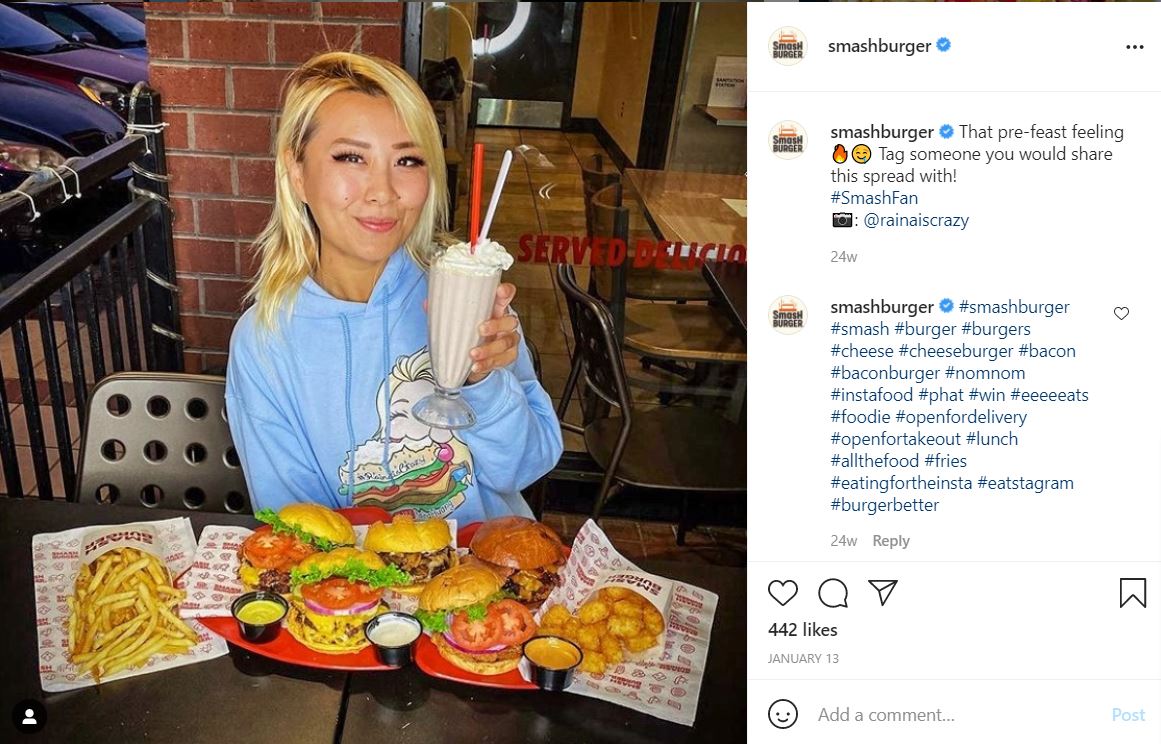 WOM based on giveaways and freebies – is there a person who doesn't like to take part in a contest with good prizes? Giveaways are an easy way to grab your target audience' attention, especially if you are offering concert tickets. Below you can see a great example of a giveaway collaboration between Heinz and Burgerfi:
WOM based on games, contests, quizzes – we all know that entertainment posts like these get a lot of engagement and shares or friend tags. But let us show you a different approach to this. CostaCoffee comes up with a game on how to create your own Costa Recipe. Their approach is quite creative and in the end it is not the reward that makes their content a WOM material but the idea that by having some fun you can boost your mood. Costa's FeelGoodFix series are a great example of how quality content presented in a game-like form could do miracles for user engagement.